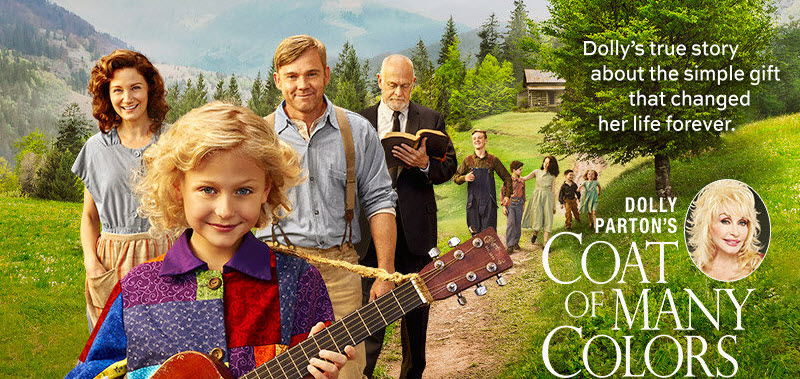 Dolly Parton's Coat of Many Colors will rebroadcast Christmas Day ( 9 ET/ 8 CT) on NBC.  The December 10 premiere ranks as the most-watched film on the four broadcast networks in more than six years with 13 million viewers during the initial Dec. 10 broadcast, and Nielsen live +3 nudging the total up by 2.5 million to an overall 15.6 million, plus a 27% hike that nudged the 18-49 demo from a 1.8 to 2.3. L+3 ratings measure live viewing plus DVR viewing up to three days later.Dolly Parton's Coat of Many Colors is based on the inspiring true story of living legend Dolly Parton's remarkable upbringing. This once-in-a-lifetime movie special takes place inside the tight-knit Parton family as they struggle to overcome devastating tragedy and discover the healing power of love, faith, and a raggedy patchwork coat that helped make Parton who she is today.
Set in the Tennessee Great Smokey Mountains in 1955, the movie is a family-oriented faith-based story about the incidents in her  life around the time she was 9 years old.
Alyvia Alyn Lind stars as 9-year-old Dolly Parton. Alyvia most recently had a role in the Lifetime movie spoof "A Deadly Adoption," with Will Ferrell and Kristen Wiig. She has also appeared in "Masters of Sex" and "Transparent."
Jennifer Nettles portrays Dolly's mother, Avie Lee Parton.  Nettles is one of the most popular singer-songwriters in music today. As the lead singer of the duo Sugarland, Nettles has sold more than 22 million albums, achieved eight #1 singles and has won numerous awards, including trophies from the Grammys, AMAs, ACM Awards, CMT Music Awards and CMA Awards. In addition, Nettles debuted her first solo album in 2014 which went to #1 on the country charts.
Ricky Schroder portrays Dolly's father, Lee Parton. Schroder has had a lengthy career dating back to when the actor was 9 years old and won a Golden Globe for his role in the heartfelt boxing film "The Champ." He was SAG nominated both individually and as a member of the cast of the Emmy Award-winning police drama "NYPD Blue" and had a co-starring role in the Emmy-winning drama "24."
Gerald McRaney portrays Grandpa Jake Owens. His career includes roles in several critically acclaimed television dramas — "Deadwood," "Southland" and "House of Cards" — and he currently co-stars on the Western series "Longmire." He will also co-star on the upcoming TNT series "Agent X." McRaney was nominated for a Screen Actors Guild Award as part of the cast for both "Deadwood" and "House of Cards."
Tune In:
The Talk (CBS) – Dec. 3
Home and Family (Hallmark Channel) – Dec. 7 and Dec. 8
Today (NBC) – Dec. 8 and Dec. 10
Dolly Parton's Coat of Many Colors (NBC) – Dec. 10
encore presentation – Dolly Parton's Coat of Many Colors (NBC) – Dec. 25
Watch Dolly Parton's Coat of Many Colors Trailer: