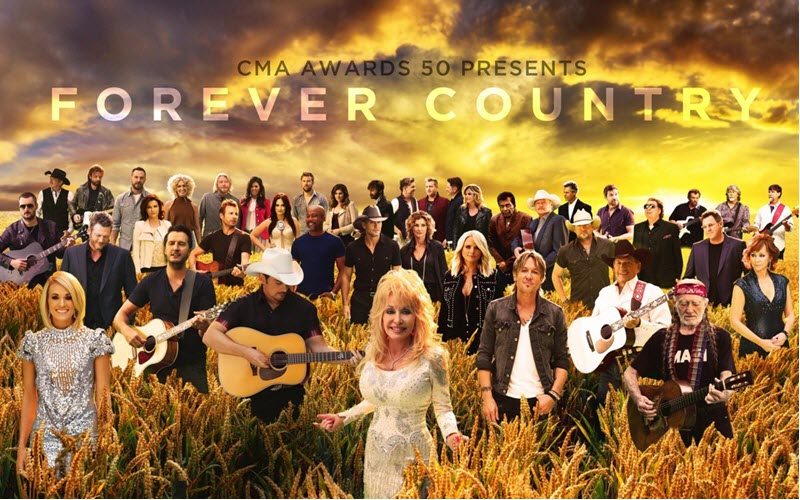 Watch the Forever Country video now on ACountry! The biggest music video in Country Music history – produced by CMA to celebrate the 50th Anniversary of the CMA Awards.   Forever Country,  a medley of three legendary country songs – "Take Me Home, Country Roads," "On the Road Again," and "I Will Always Love You, " – features 30 legendary and current Country superstars.
The star-studded list of acts appearing in the music video includes the following CMA Award winners: Alabama, Jason Aldean, Dierks Bentley, Brooks & Dunn, Luke Bryan, Eric Church, Brett Eldredge,Vince Gill, Faith Hill, Alan Jackson, Lady Antebellum, Miranda Lambert, Little Big Town, Martina McBride, Tim McGraw, Ronnie Milsap, Kacey Musgraves, Willie Nelson, Brad Paisley, Dolly Parton, Charley Pride, Rascal Flatts, Reba, Darius Rucker, Blake Shelton, George Strait, Randy Travis, Carrie Underwood, Keith Urban, and Trisha Yearwood.
Watch Forever Country
Check out Jason Aldean discussing being in Forever Country:
Following the global roadblock of the "Forever Country" single, which premiered on hundreds of Country radio stations simultaneously on Sept. 16, interest skyrocketed and #ForeverCountry quickly became a top trending topic on Twitter, while the single quickly became a Top 10 on digital retailers, topping the Country sales list.
Fans fell in love:
"#ForeverCountry is incredible! It feels like a love letter to every Country fan out there, young and old," said Joey Grillo (@JoeyGrillo_).
"#ForeverCountry is everything I love about CountryMusic in one. This is why I fell in love with the genre so many years ago," said Alyssa (@alyssaa711).
"Just listened to the first radio play of #ForeverCountry. Such a great mix of voices old and new and a great celebration of Country Music," said Alastair Clark (@cheesemeister97).