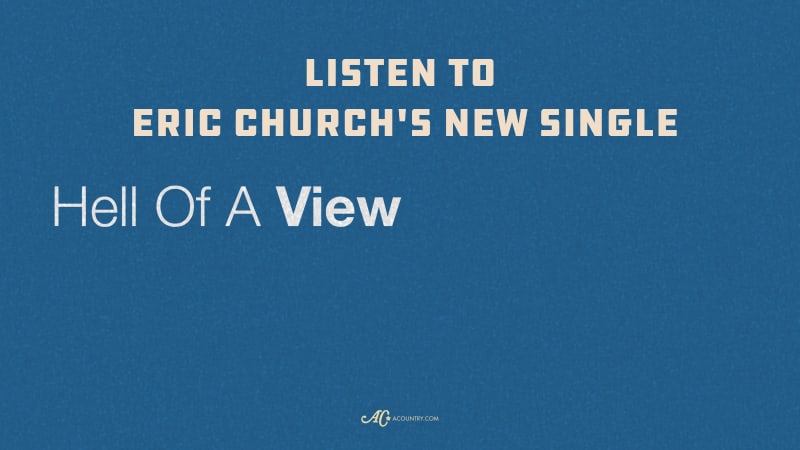 Eric Church's new single "Hell of A View" is country's most added single this week.  Eric will perform the new song at Wednesday night's CMA Awards, where he's nominated for Male Vocalist and  Entertainer of the Year.
Written by Church together with Casey Beathard ("The Outsiders," "Mr. Misunderstood") and Monty Criswell ("Like Jesus Does"), the romantic mid-tempo track depicts a life devoted to chasing dreams over dollars alongside the ones we love. Joined by longtime backing vocalist Joanna Cotten, Church sings of the payoff of such a life in the song's chorus:
"This ain't for everybody / Toes hanging off the ledge / Like we got nothin' to lose / Ain't always heaven, baby / This livin' on the edge / You holdin' me holdin' you / It's a hell of a view"
"We were in North Carolina in the mountains, and when I came back in from a jog Casey immediately started playing the first part of the song he'd been working on with Monty," shares Church. "He had the line 'caught your wings on fire when I smoked my Bronco tires out of that town,' and I just thought that was such a great line. I was smitten with it, so we finished it and then recorded it that night. I knew it was pretty special when it went down, because it felt like a big hit but at the same time it has that timeless quality to it."
Rolling Stone celebrates the new single that "evokes Tom Petty's kaleidoscopic jangle" and notes that "Church depicts the thrill of a life on the move with the one you love in [the] tender mid-tempo ballad with shades of his hit 'Springsteen,'" with Billboard adding, "Singing with his longtime backing vocalist Joanna Cotten, they revel in blazing their own path more reliant on adventure than safe choices."
"Hell Of A View" is one of many new releases from Church in recent months, including "Stick That In Your Country Song," "Bad Mother Trucker," "Crazyland" and "Through My Ray-Bans." In addition to the official releases, Church has also shared previews of unreleased music with performances on ACM Presents: Our Country ("Never Break Heart") and Stagecouch ("Jenny") as fans eagerly await news of a forthcoming project.
Listen to @EricChurch new single #HellOfAView #NowPlaying on ACountry and don't miss Eric performing the song live Wed night on #CMAAwards
Click To Tweet
The three-time Country Music Association and seven-time Academy of Country Music Award winner released his most recent critically acclaimed and GRAMMY nominated album, Desperate Man, atop the Billboard Country Albums chart in late 2018. The album, featuring his latest No. 1 hit "Some Of It," also debuted at No. 5 on the all-genre Billboard 200. Church returned to the road in 2019 for his chart-topping Double Down Tour, with back-to-back nights of two unique shows sans-opening act giving fans 6+ hours of his iconic music in each city. The tour also featured a massive stop at Nissan Stadium in Nashville, where Church broke the venue's concert attendance record with 56,521 fans just two weeks before awing the same stadium's audience with a 30-minute, solo acoustic CMA Fest set featuring a medley of 17 hits. "Stick That In Your Country Song," released on June 25, is the lead single off a forthcoming project born from a sequestered session in rural North Carolina where he wrote and recorded a song per day for nearly a month.
For more information, visit ericchurch.com.
Source: Essenstial Broadcast Media