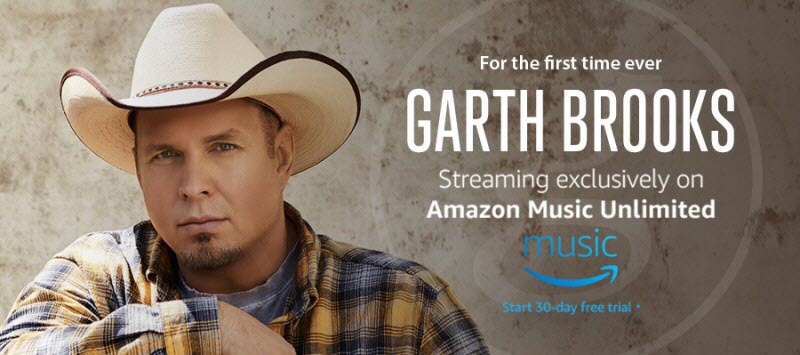 For the first time ever, Garth Brooks is now available to stream exclusively on Amazon Music. Starting today, Amazon Music Unlimited subscribers can stream the latest single, "Baby, Let's Lay Down and Dance," from his upcoming new studio album, Gunslinger (Pearl Records, Inc.), in addition to Garth's Diamond-selling album, The Ultimate Hits and the two-time Diamond-selling album, Double Live, which includes "Friends in Low Places," "The Dance," "Papa Loved Mama," "Callin' Baton Rouge," "Unanswered Prayers," "The River," "Ain't Goin' Down ('Til the Sun Comes Up)," "Two Pina Coladas," "Shameless," and "The Thunder Rolls." All songs on Double Live will also be available on Prime Music.
In an exclusive interview with Billboard, Garth explained why Amazon was the perfect fit for streaming his music:  "We were talking to Spotify and Apple. Spotify didn't have a place to sell [music] and iTunes had their own rules so, even though we can stand in the same room and be friends, there is some kind of rub there. So with them, it's always a little tough. I think it comes down to egos on both sides.   Then out of the blue comes a company that's one, if not the most trusted name, in Internet sales, and they want to launch a streaming service. They already have a ton of listeners for their existing streaming service and they can do digital and physical sales."
More Garth music will be added to Amazon Music Unlimited later this year, including his upcoming new holiday album with his wife and country star Trisha Yearwood titled, Christmas Together, and his highly anticipated upcoming studio album, Gunslinger, the first since 2014, which features the new single, "Baby, Let's Lay Down and Dance," released just last week. Rolling Stone called the single an "upbeat country tune with Southern rock-inspired guitar riffs has a timeless sound."
"It is a joy to work with a company that is all about the customer when it comes to service, and all about the music and its creators when it comes to the music," stated Garth Brooks. "I applaud Amazon on their commitment to quality and thank them for this opportunity."
"This is a landmark moment for both Amazon Music and Garth Brooks," stated Steve Boom, VP of Amazon Music. "Garth Brooks is a legendary country music superstar who continues to shatter industry records and amaze fans three decades into his career. We are honored to make his music available for streaming for the first time ever, exclusively on Amazon Music."
The genre-spanning collection of Garth's music, including studio albums and compilation albums, are also available for purchase and digital download in MP3 format exclusively on Amazon Music. Amazon Music Unlimited will also be the official sponsor of Garth Brooks current record-breaking tour, which will go worldwide in 2017.
Garth Brooks has received seven Diamond awards for seven individual albums from the RIAA for selling over ten million units each, a feat only he can claim, and is the No. 1 selling solo artist in U.S. history certified by the RIAA with over 138 million album sales. Throughout his illustrious career he has won the Billboard Music Artist Achievement Award, NACCP Image Award and has been inducted into the Country Music Hall of Fame, Nashville Songwriters Hall of Fame, and the International Songwriters Hall of Fame in New York. Garth also just received his 11th nomination for Entertainer of the Year from the CMA Awards.


Listeners can also experience the magic of innovative new Alexa voice controls when listening to Garth's music on Echo—no search or browse required. Just ask.
Ready to listen? Just ask, "Alexa, play Garth Brooks"
Want to hear the latest Garth Brooks single? Just ask, "Alexa, play the new Garth Brooks song" and Alexa will play "Baby, Let's Lay Down and Dance"
Can't remember the name of a song from Garth, but know the lyrics? Just ask, "Alexa, play the song that goes 'Swore I'd never compromise, but you convinced me otherwise'" and Alexa will play "Shameless"
Having a quiet weekend and want to listen to Garth and other country artists? Just ask, "Alexa play relaxing country music" and Alexa will choose a personalized playlist like "Acoustic Garth Brooks," "Relaxing Garth Brooks" or "Campfire Country"
Want to only listen to Garth's music from a specific time period? Just ask, "Alexa, play Garth Brooks 90s music" and Alexa will play tracks released by the star in that decade
Want to have fun while listening? Just ask, "Alexa, what's the weather in her heart?"
Launched last week, Amazon Music Unlimited is available on all Amazon Music compatible devices at a breakthrough price of $7.99/month or $79/year for Prime members (which is $6.58/month) or $9.99/month for non-Prime customers. In addition, Amazon Music Unlimited is available with an exclusive "for Echo" subscription plan for only $3.99/month for listening on a single Echo, Echo Dot or Amazon Tap.