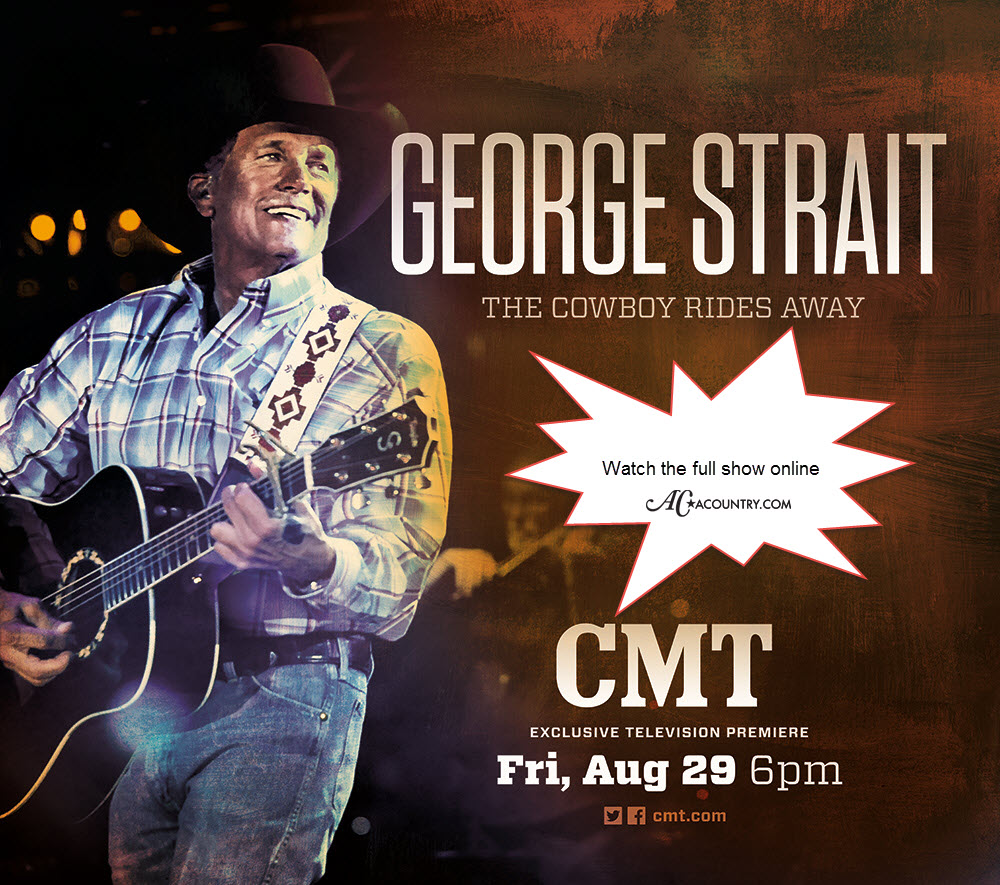 George Strait : The Cowboy Rides Away television special is now available to watch online on ACountry.  The televsion special premiere on CMT August 29 drew over 4.1 million cumulative viewers.  Filmed lived from his final concert in Dallas, Strait is joined onstage by Jason Aldean, Kenny Chesney, Eric Church, Sheryl Crow, Vince Gill, Faith Hill, Alan Jackson, Miranda Lambert, Martina McBride and George "Bubba" Strait, Jr.  CMT will rebroadcast the special on Saturday, September 6 at 10 pm ET/PT and Sunday, September 7 at 9 am ET/PT.  Watch the full show online below
George Strait : The Cowboy Rides Away is an historical account told through the music from the superstar's storied career. The special features new interviews with Strait, along with a selection of his incredible 60 No. 1 hits performed at the farewell tour, including "Fool Hearted Memory," "I Can Still Make Cheyenne," "Check Yes Or No" and "The Cowboy Rides Away."
Strait's final date of The Cowboy Rides Away Tour shattered indoor concert attendance records for North America, with more than 104,000 fans there to witness the last night of his two-year tour. It is no wonder fans love him. The reigning ACM and CMA Entertainer of the Year amassed more No. 1 singles than any artist in any genre, and is the only artist to chart a Top 10 hit every year for 30 years.
Watch George Strait : The Cowboy Rides Away online on ACountry:
George Strait has sold more than 68.5 million records and released 33 different Platinum or multi-Platinum albums, the highest number of such certifications in the country music genre and third-highest in any genre (following only Elvis Presley and The Beatles). With a total of 60, George Strait has more No. 1 songs than any other artist in history and has received more than 60 major entertainment industry awards, most recently taking home his second ACM Entertainer of the Year and third CMA Entertainer of the Year titles, respectively. He will continue to record new music for longtime label home MCA Records and perform select dates across the country. For more information, please visit www.georgestrait.com or follow on Twitter @GeorgeStrait.