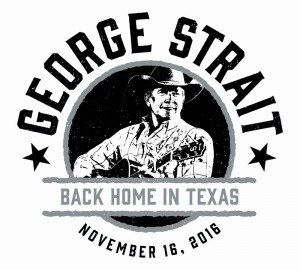 George Strait returns to  Gruene Hall, Texas' oldest dance hall, for an exclusive Strait Out of the Box: Part 2 album release show this Wednesday, Nov. 16.  While tickets are not available for purchase, fans can live-stream the event at 7 p.m. CT on Strait.WranglerNetwork.com
The impressive three-disc, 56-track collection is available this Friday, Nov. 18 exclusively at Walmart and Walmart.com . Featuring 36 of Strait's hit singles including 26 No. 1s, Strait Out of the Box: Part 2 also offers fans two new songs with "Kicked Outta Country" and "You Gotta Go Through Hell." Strait is a co-writer on both tracks.
Strait Out of the Box: Part 2 spans 20 years of Strait's career from 1996 to 2016 and follows the highly successful, 8x Platinum-selling 1995 release, Strait Out of the Box . The two new songs offered in the set, "Kicked Outta Country" (George Strait/Jamey Johnson) and "You Gotta Go Through Hell" (George Strait/Bubba Strait/Dean Dillon) are the first new recordings released from Strait since last year's surprise Cold Beer Conversation album.
Strait fans have the opportunity to pre-order Strait Out of the Box: Part 2 along with select merchandise, including a silver-plated belt buckle identical to the one featured on the collection's cover. The limited edition buckle arrives in an autographed craft wooden box suitable for display.
George Strait Gruene Hall Set List:
Here For a Good Time
Ocean Front Property
Give It All We Got Tonight
Check Yes or No
The Breath You Take
Arkansas Dave
Cold Beer Conversation
Goin', Goin', Gone
I Can Still Make Cheyenne
The Fireman
How 'Bout Them Cowgirls
Kicked Outta Country
You Gotta Go Through Hell
Marina Del Ray
Mama Tried
Working Man Blues
Give It Away
Amarillo by Morning
Drinking Man
The Chair
Take Me to Texas
I'll Remember You
Troubadour
Unwound
Take Me Back to Tulsa (encore)
All My Ex's Live in Texas (encore)
Folsom Prison Blues (encore)
The Cowboy Rides Away (encore)
Strait is one of the most celebrated country music stars in history and Billboard recently named him No. 1 on the Greatest of All Time: Country Artists list. With 60 No. 1 singles and more than 70 million records sold, Strait has more No. 1 songs than any other artist, and is third only to Elvis Presley and The Beatles with the most Gold and Platinum albums in history. He is the most nominated artist in CMA Awards history and was the first country music artist honored with  Billboard 's Legend of Live Award.
Strait Out of the Box: Part 2 Track Listing:
Disc 1 (1996-2000)
1. Blue Clear Sky
2. Carried Away
3. Rockin' In The Arms Of Your Memory
4. I Can Still Make Cheyenne
5. Round About Way
6. Carrying Your Love With Me
7. One Night At A Time
8. Today My World Slipped Away
9. The Nerve
10. I Just Want To Dance With You
11. True
12. Maria
13. We Really Shouldn't Be Doing This
14. Meanwhile
15. Write This Down
16. The Best Day
17. Looking Out My Window Through The Pain
18. Go On
Disc 2 (2001-2008)
1. She'll Leave You With A Smile
2. Run
3. Living and Living Well
4. My Life's Been Grand
5. Cowboys Like Us
6. Desperately
7. Four Down and Twelve Across
8. I Hate Everything
9. Seashores of Old Mexico
10. She Let Herself Go
11. Give It Away
12. Wrapped
13. It Just Comes Natural
14. Texas Cookin'
15. How 'Bout Them Cowgirls
16. Come On Joe
17. Troubadour
18. River Of Love
19. I Saw God Today
Disc 3 (2009-2016)
1. Living For The Night
2. Out Of Sight Out Of Mind
3. Arkansas Dave
4. Love's Gonna Make It Alright
5. Drinkin' Man
6. Shame On Me
7. Here For A Good Time
8. House Across The Bay
9. Blue Marlin Blues
10. I'll Always Remember You
11. Give It All We Got Tonight
12. I Just Can't Go On Dying Like This
13. That's What Breaking Hearts Do
14. The Night Is Young
15. I Believe
16. Goin' Goin' Gone
17. Everything I See
18. Kicked Outta Country*
19. You Gotta Go Through Hell*
*Denotes new music