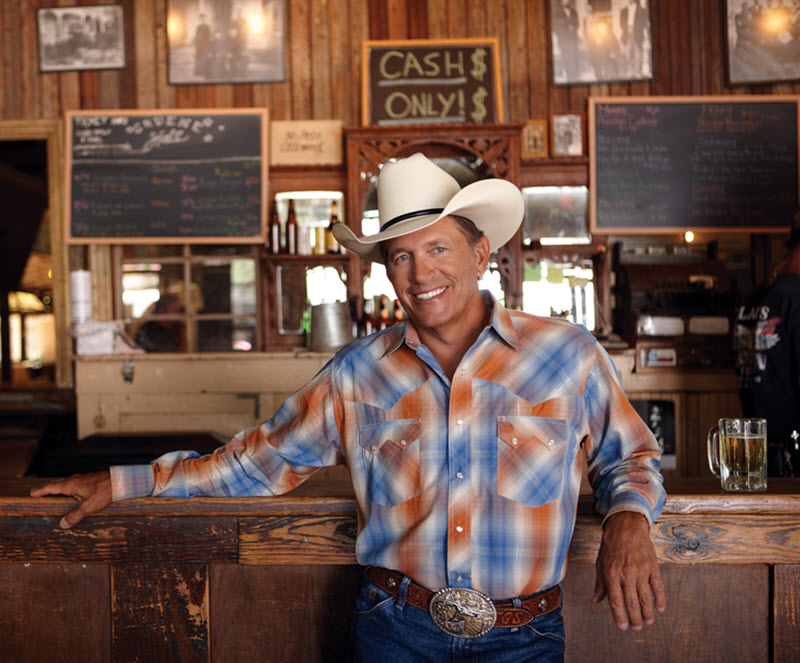 George Stait will be appointed Texas Musician of the Year by The Texas State Legislature on Thursday, May 18 in Austin, Texas.
"It's a great honor for me to be selected as Texas State Musician of 2017 and join this very prestigious list of other honorees," proclaimed Strait. "I'm a very proud Texan and love to sing the praises of our great state every chance I get. Thank you very, very much."
The general public nominates candidates for the honor, and then recipients are selected from those nominees by the Texas Commission on the Arts through several committee processes.  Selections for the honor are made every two years. Among the talented artists given this accolade include Willie Nelson, Lyle Lovett and ZZ Top's Billy Gibbons.
A Texas native, Strait has recorded and released several songs about his home state including, "All My Ex's Live in Texas," "Amarillo By Morning," "Somewhere Down in Texas," "Does Fort Worth Ever Cross Your Mind," "Texas," "Lone Star Blues," "Remember the Alamo," "Take Me To Texas" that he wrote for the History Channel's Texas Rising and more. He's also shown for keeping the Texas spirit alive in many ways such as returning to New Braunfels, Texas' legendary dance hall, Gruene Hall, for a two-hour set Nov. 16 for his release of his hit box set Strait Out of the Box: Part 2 as well as tapping native Texan Kacey Musgraves to his open his Las Vegas exclusive worldwide engagements, Strait To Vegas.
The honor of Texas State Musician of 2017 will join the list of Strait's lifetime achievements including his induction into the Country Music Hall of Fame in 2006, selling more than 70 million albums, having 33 albums go Platinum or multi-Platinum, earning more than 60 major entertainment industry awards and having 60 singles go to No. 1 on the charts.
You can see 2017's Texas State Musician during his 2 Nights of Number 1's live shows at Las Vegas' T-Mobile Arena on the following upcoming dates:
Friday, July 28, 2017; Saturday, July 29, 2017; Friday, Sept. 1, 2017; Saturday, Sept. 2, 2017; Friday, Dec. 8, 2017; and Saturday, Dec. 9, 2017
Tickets and VIP packages for the July 28-29  2 Nights of Number 1's  shows are on sale now. For more information or to purchase tickets, visit StraitToVegas.com.
Strait has once again partnered with CID Entertainment to offer VIP Experiences and Travel Packages for all upcoming  Strait to Vegas  shows. VIP Experience amenities range from access to the King's Exhibit featuring memorabilia showcasing George Strait's career to a signed coffee table book with rare and previously unreleased photos. All VIP Experiences include premium concert tickets and exclusive merchandise gifts. Travel Packages include  Strait to Vegas  tickets, plus hotel accommodations and exclusive merchandise. For full package details, visit CID Entertainment.
Many of the songs that Strait will be performing during  2 Nights of Number 1's  are also featured on  Strait Out of the Box: Part 2,  available now. The three-disc, 56-track collection spans 20 years of Strait's remarkable career from 1996 to 2016 and offers fans two new songs with "Kicked Outta Country" and "You Gotta Go Through Hell."
Photo Credit: Vanessa Gavalya