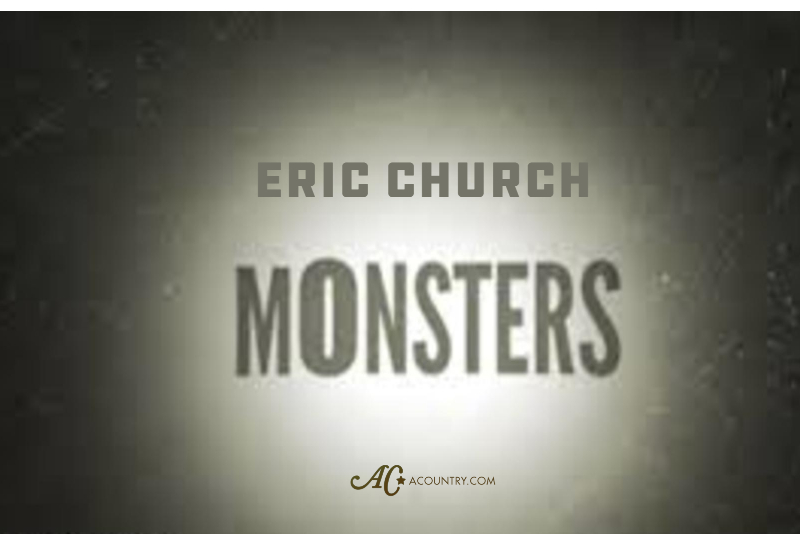 The new Eric Church song Monsters, the the third single off the critically-acclaimed album Desperate Man, is the most added song at Country radio.
"Anymore when a restless feelin' keeps me up at night / Fallin' on my knees is my new turnin' on the light," sings Church in the earnest chorus. "I keep my faith intact, make sure my prayers are said / 'Cause I've learned that the monsters ain't the ones beneath the bed."
As Entertainment Weekly notes, Church "believes in [music's] power to heal, to transport you to the past, to make sense of the present and hold out hope for the future," the full spectrum of which he accomplishes in this "blues-inflected tune contending with demons, real and imagined."
Initially inspired by bedtime rituals with his two young sons, Church and co-writer Jeff Hyde broadened the metaphor to encompass the adult fears and worries that replace childhood monsters under the bed.
"A specific night, I can remember going in my oldest son Boone's room… the dimmer wasn't right, it wasn't bright enough and he wanted it a brighter. And when I went in and made it a little brighter he said, 'that's good, that's good, that's perfect.' And it wasn't much… but that stuck with me that it's kind of all he needed was just more light," reflects Church. "It will always be a song that I think about where I was at that time in my life, where my kids were, and just how that little bit of light is what made the difference."
View this post on Instagram
"Monsters" comes on the heels of Church's recently-announced CMA Award nominations, as he earned nods in three categories: Entertainer of the Year, Album of the Year (for Desperate Man, Producer: Jay Joyce) and Music Video of the Year (for "Some Of It," Director: Reid Long).
Church also returns to the road with the Double Down Tour resuming in Green Bay, Wisconsin next Friday, Sept. 13 and continuing throughout the fall. The uniquely-structured tour featuring back-to-back nights with distinct set lists in most cities has seen numerous sell-out crowds thus far, landing Church at the top of Pollstar's LIVE75 and Global Concert Pulse charts for ticket sales averages while routinely earning praise from fans and critics alike.
The new @ericchurch song Monsters, the the third single off the critically-acclaimed album Desperate Man, is the most added song at Country radio. Watch the lyric video on ACountry #monsters
Click To Tweet
Eric Church Double Down Tour Dates
Sept. 13 & 14                  Green Bay, Wis. ….. Resch Center
Sept. 20 & 21                  Calgary, Alberta ….. Scotiabank Saddledome
Sept. 28                           San Francisco, Calif. ….. Chase Center
Oct. 4 & 5                       Grand Rapids, Mich. ….. Van Andel Arena
Oct. 11 & 12                   Philadelphia, Pa. ….. Wells Fargo Center
Oct. 25                            Little Rock, Ark. ….. Verizon Arena
Oct. 26                            Birmingham, Ala. ….. Legacy Arena at the BJCC
Nov. 1                             Manchester, N.H. ….. SNHU Arena
Nov. 2                             Hartford, Conn. ….. XL Center
Nov. 15 & 16                  Washington, D.C. ….. The Anthem
Nov. 22 & 23                  Sacramento, Calif. ….. Golden 1 Center
The three-time Country Music Association and six-time Academy of Country Music Award winner released his highly-anticipated album Desperate Man atop the Billboard Country Albums chart in October 2018. The album also debuted at No. 5 on the all-genre Billboard 200. Rolling Stone describes the album in their July 2018 cover story as "classic Church: expertly crafted and country-radio-friendly, while also pushing boundaries in a way that sounds natural and unforced" and American Songwriter notes in a cover story that it "sublimates the pain of a tumultuous year into his most adventuresome album yet." Church has returned to the road for his 2019 Double Down Tour, visiting nearly 30 markets for back-to-back nights of two unique shows sans-opening act to give fans 6+ hours of his iconic music in each city. The tour also included a massive stop at Nissan Stadium in Nashville, where Church broke the venue's concert attendance record with 56,521 fans and nearly tripled the attendance record he set at Bridgestone Arena in 2017.
For more information and to purchase tickets, visit www.ericchurch.com,
Source:  Essential Broadcast Media