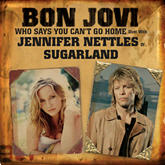 ACountry salutes Jennifer Nettles and Bon Jovi as "Who Says You Can't Go Home," the duet from Bon Jovi's Have A Nice Day album, won the Grammy for Country Colloboration with Vocals at The 49th Annual Grammy Awards on February 11, 2007 in Los Angeles. "Who's the lucky girl?" exclaimed Nettles. "I do what I love for a living and everyday I wake up thankful for it. To be honored with a Grammy is a dream for any musician. Who would have thought that a little girl from Douglas, Georgia would one day receive a Grammy for country collaboration with a rock band?! Truth is vastly more exciting than fiction! Living proof."
"Who Says You Can't Go Home" topped the Billboard Hot Country Songs chart in April 2006, marking the first time a rock act reached Number One on the chart since Billboard began tracking country singles in 1944.
Sugarland's new album, Enjoy The Ride, is in stores now.
Don't miss Sugarland in concert this year, including the Houston Rodeo and Buy Kenny Chesney tour.
source: Mercury Records
updated February 13, 2007
: : : : :
listen to Sugarland free samples / download from iTunes