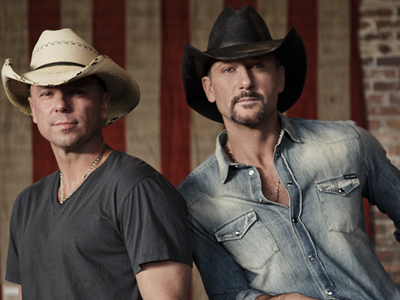 The Brothers of the Sun Tour kicks into high gear – Texas Style – on June 9, 2012 as Kenny Chesney and Tim McGraw hit the stage at Dallas Cowboys at Stadium in Arlington.
Buy Kenny Chensey Tim McGraw Dalls Cowboys Stadium tickets and get ready to party!
"Our friendship was forged on the road, so it's going to be a blast heading out with Kenny again," said McGraw. "We'll be having as much fun on stage as the fans will be having in the audience."
Check out the complete details about the venue by going to http://stadium.dallascowboys.com/.
Dallas Cowboys Stadium is located at 1 Legends Way, Arlington, TX 76011.
Directions To Dallas Cowboys Stadium
* From I-30 Exit # 28 Collins St. South on Collins to Randol Mill Rd. The Stadium is on the SE corner of Collins and Randol Mill Rd.



* Customized Route and Directions 

Cowboys Stadium has created an online tool that will provide you with directions to your specific Blue or Silver designated lot at the stadium. Go to www.dallascowboysmaps.com and enter the zip code you are starting from and then select your assigned parking lot. You will receive personalized directions and a route map. Follow the directions provided to avoid traffic delays and get parked fast.



* Directional Signs 

As you approach the stadium, there will be additional highway, street and electronic message signs directing you along your route to your Blue or Silver designated lot entrance.
Dallas Cowboys Stadium Parking
Parking areas are generally open four (4) to five (5) hours prior to Cowboys games. For other lot opening times, visit Cowboys Stadium on line at http://stadium.dallascowboys.com or call the Guest Services Hotline at (817) 892-4161. For Cowboys games prepaid parking passes are required for access to Cowboys Season Parking lots (non-cash lots). For personalized directions to prepaid and cash parking lots, go to http://www.dallascowboysmaps.com. Parking passes are valid only for the event or game noted on the pass and for the specific lot. All vehicles parked within the stadium security perimeter are subject to a security screening prior to admission to the parking area.
When purchasing tickets for the following sections we recommend purchasing your parking pass in the following lots:

SECTIONS: 136-134, 235-243, 336-343, 443-452 = LOT 4, LOT 10





SECTIONS: 128-135, 228-234, 329-335, 436-443 = LOT 10, LOT 11



SECTIONS: 120-127, 218-227, 318-328, 420-435 = LOT 11, LOT 12, LOT 13



SECTIONS: 111-119, 210-217, 311-317, 413-419 = LOT 12, LOT 11, LOT 13



SECTIONS: 145-150, 244-250, 344-350, 453-460 = LOT 13, LOT 12, LOT 4



SECTIONS: 101-110, 201-209, 301-310, 401-412 = LOT 14, LOT 12, LOT 13



Lots are based on Availability



All lots have accessible spaces. For ADA parking, purchase a regular parking pass and display your ADA placard or license plate. 



* Passenger Drop-Off Zones 

There are two passenger drop-off zones at the stadium. One is located on the north side off of Randol Mill Road in Lot 1 and one located on the south side off of Cowboys Way in Lot 6. 



* Limousine Parking 

Limousines will be able to drop off passengers in Lot 1 and in Lot 6. Limousine parking is available on Randol Mill Road and on Cowboys Way. A limousine parking pass is required. 



* Taxis 

A taxi stand is located outside the West Plaza near Collins Street and Cowboys Way. 



* Vehicle Security Inspection 

All vehicles parking within the stadium's secured parking perimeter are subject to a security inspection before being allowed to park. 



Buy Kenny Chensey Tim McGraw Dalls tickets