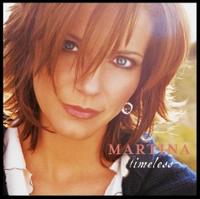 Martina McBride was honored as Kansan of the Year by the Native Sons and Daughters of Kansas at a banquet in Topeka, Kansas on January 27, 2006. Martina grew up on a farm in tiny Sharon, Kansas and performed with her dad's band. As Martina explains, it was truly a family affair: "We played wedding dances, VFW halls, American Legion posts and things like that. My mom ran the soundboard. I played keyboards and sang. My brother Marty played guitar and steel." Martina spent every Saturday night with the band until she graduated from high school.
Timeless, Martina's eighth studio album, released October 18, 2005, was certified platinum by the RIAA in December. Martina McBride is currently on tour with a 2-hour plus show of Martina signature hits as well as Timeless classics from her critically-acclaimed new album.
"I have to admit that I enjoyed the time off the road devoted solely to the recording process and quality family time," admits Martina. "Now that the new album is out and I've performed for television studio audiences, I realize how much I've missed the live show! I'Äôm so excited to reintroduce these Timeless classics to country music fans as well as perform hits from my past albums."
Martina's new live show consists of one full set of fan favorites such as "Independence Day," "This Ones for the Girls" and "My Baby Loves Me" among others plus an additional set of Timeless cuts such as the Lynn Anderson remake "Rose Garden," as well as other hits made famous by legends Johnny Cash, Buck Owens, Tammy Wynette, Loretta Lynn and many more.
Martina McBride's powerhouse voice has earned her more than 15 million in album sales, garnered six No.1 hits; and a mantle of honors, including a record tying four CMA Female Vocalist of the Year trophies (the past three years consecutively). She has placed nearly 20 singles in the top-10 including hits such as "Broken Wing," "Concrete Angel," "Love's The Only House" and "God's Will" which have become not only memorable musical statements, but resounding social commentaries as well.
source: Front Page Publicity
: : : : :
Buy Martina McBride now from Amazon
listen to Martina McBride free samples / download from iTunes