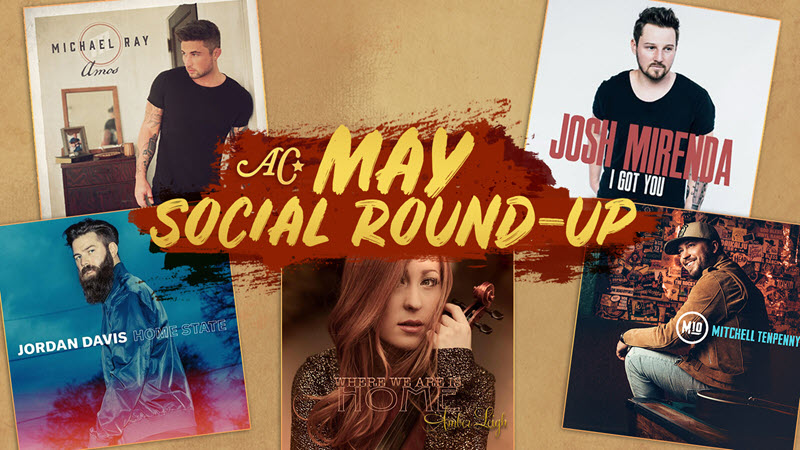 After taking a little time off on our Social Round-Up feature, the spring has us feeling energized and ready for more action that ever. We couldn't be more excited to share a brand new batch of some new favorites found on our social channels with you and hope you're ready for some of the hottest talent Nashville has to offer. It's a grand ol' time for country music and we hope you're enjoying the ride as much as we are.
Amber Leigh (@amber_leigh)
Location: Nashville, TN
While Amber Leigh's career is blossoming, it's far from her first rodeo as she's been performing since age 10. Boasting skills on vocals, violin, mandolin, and guitar can easily spread a musician thin with lackluster skills on each, but Leigh does a magnificent job harnessing a confident prowess on each. We're loving the musical diversity of "Where We Are is Home" as its acapella intro baits the audience before she takes us on an exhilarating ride with a fiddle lead that gives the song a tinge of Irish flavor. The lyrics are also on-point as she proclaims that she's
"Been through every city
Been down every road
As long as you're with me
Where we are is home"
It sounds cliche, but "home is where the heart is" and if you're a free spirit following your dreams, home can be anywhere you make it. If you're in Nashville or Maine, make sure to check out her summer dates here.
Michael Ray (@Michaelraymusic)
Location: Nashville, TN
Here is a recommendation we got from a music fan in our inbox. Michael Ray is a looker and we're not going to lie when we initially thought this song might be a boastful anthem patting himself on the back for the harem of googly-eyed women that frequent his shows. However, it's far from that and will give you "all the feels," as the kids say. Rather than bro out and highlight the swooning girls in the front row, Ray himself is the "fan girl" speaking endearingly to a new person in his life he is infatuated with the same way "fan girls" feel about their favorite artists. Between his smile and lines like, "looking at you kinda feels like when the lights go down, got a ticket to the best show in town," Ray is guaranteed to melt hearts around the world.
Mitchell Tenpenny (@m10penny)
Location: Nashville, TN
A song with a title like "Drunk Me" can raise some eyebrows and wonder what the lyrical content may contain (Is it celebrating the shenanigans from a proverial "last night?" Is it regretful decisions? Did someone get arrested?!). This tune is actual the ultimate testament of self-realization that proclaims, "Some people don't know when to quit. That's why they quit." in regards to making remorseful decisions while under the influence. Aside for being relatable to an extent to people from all walks of life (whatever their vices may be), the musical skill shines with pensive piano in the background and vocal diversity that ranges from slightly John Mayer-esque in the verses to a belt-laden power rock anthem in the chorus. Tenpenny has an active summer ahead with festival plays across the U.S. Scope out the dates here and pick up those tickets.
Jordan Davis (@JordanCWDavis)
Location: Nashville, TN
Shreveport, LA native Jordan Davis has natural knack for popular country music that dabbles in hints of pop while irrefutably rooted in country music. His song "Goin' Round" begins with a pensive, wistful guitar before his sonorous voice comes in and settles into the first verse. Filled out back up vocals, tasteful effects, and a triumphant guitar solo are key ingredients in this antidote about a love interest who's fresh off a fight with an older lover. There's a delicate balance between wanting to swoop in too soon, yet being so confident that she'd be better off in a new direction with the protagonist. Davis has a few festival plays around the U.S., so if you're in the area, stop by and check him out. Oh, and we just have to point out that this guy boasts one of the mightiest beards we've ever seen with our own two eyes.
Josh Mirenda (@joshmirenda)
Location: Nashville, TN
"I Got You" is so catchy and upbeat, it's been stuck in our head for days. Nashville dominates this month's roundup and Josh Mirenda adds to this month's incredible roster of talent coming out of Music City. We've gotta plan a trip stat! Although the song was released in August, we can see this being a song of the summer. Mirenda evokes the exhilarating feeling of meeting someone new and being down to do anything and everything with them. Whatever this new love interest wants to do, he's "got" them. With spring renewal comes a summer of adventure and we can't wait to join Miranda on his and follow his musical journey. He has a few U.S. plays on the docket including CMA Fest in Nashville on June 10th.
Our ears are always open, so if you have a new artist on repeat or want to share some of your favorites, make sure to connect with us on our Twitter account so we can lasso in some new favorites for our next roundup!