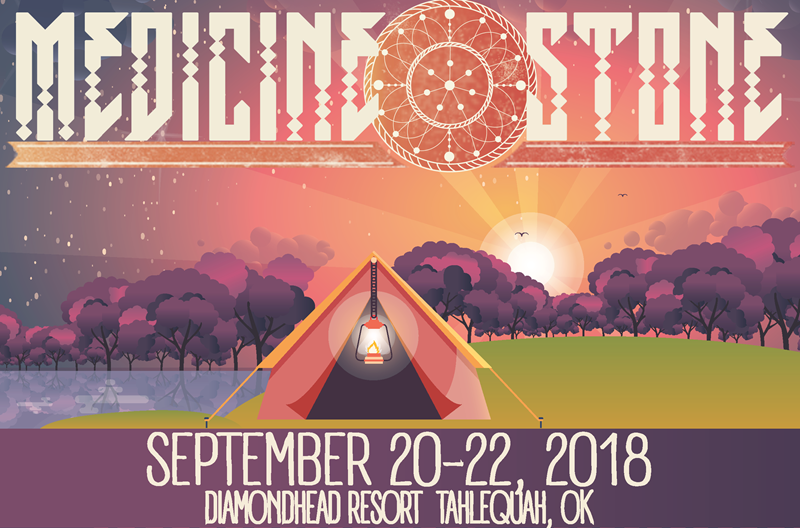 The 6th Annual Medicine Stone music festival heads back to Diamondhead Resort in Tahlequah, Oklahoma September 20th through September 22nd. This unique three-day live music retreat on the beautiful Illinois River stands alone as the premier Red Dirt music experience, a genre that has long been revered worldwide for its diverse sounds and quality of music.  This year the event creators have added 30 acres of landscape for more space for camping as well as two additional reserved prime camping areas. Tickets for the 6th Annual Medicine Stone will go on sale through the event's website on June 1st at 9:00 AM CST. Music fans are encouraged to snag their tickets early as the prime camping and RV spots, onsite lodging and hotel rooms sell out within hours. Single day tickets go on sale August 1st at www.medicinestoneok.com.
The music lineup each year is always handpicked by creators Jason Boland and Turnpike Troubadours and consists of the artists and bands whose music they themselves love and respect. It's this kind of personal hands-on attention that makes Medicine Stone feel like a "family affair" and has drawn thousands to the event from all over the country since its inception. This year's lineup includes Turnpike Troubadours, Jason Boland and The Stragglers, The Randy Rogers Band, Cody Canada & The Departed, Shooter Jennings, Wade Bowen, The Toadies, Reckless Kelly, Jamie Lin Wilson, Red Shahan, Mike McClure Band, Kaitlin Butts, John Fullbright, Dirty River Boys, Charley Crockett, Koe Wetzel, Read Southall, Micky & the Motorcars, Austin Meade, The Vandoliers, Flatland Calvary, Thomas Trapp, Red Dirt Rangers and more.
Medicine Stone offers an array of food, onsite amenities and an endless supply of music to keep you fully satisfied! The event features the main stage on Thursday, Friday and Saturday nights and the Gravel Bar Stage and Mary Ellen's Greenhouse Stage for day time and after party shows.
"However you define Red Dirt music, there is something common in all of it, raw honesty in songs, the quality of the material, and the unwavering commitment to live music. Turnpike Troubadours and Jason Boland have accomplished a great thing by creating an event to celebrate this unique subgenre, and anyone with a love for country, rock, or just real, quality music should consider attending Medicine Stone."  -Country Exclusive
 "Although my home is in Texas my heart will always be in Oklahoma.Hail hail Medicine Stone!"  -Cody Canada/Cody Canada & The Departed
"Medicine Stone has become one of my favorite shows of the year. Turnpike and Boland have put together a great line up year after year of musicians I personally respect and am a fan of." -Randy Rogers/Randy Rogers Band
"I love music festivals that are put on by artists! They are way more laid back and the focus is always on the music and friendships. Medicine Stone is this and so much more. The fans that come to Medicine Stone, come for the music.   The atmosphere is as laid back as the artists and great folks that organize and perform at this awesome gathering of friends, fans and musicians alike!" -Cody Braun/Reckless Kelly
Medicine Stone was created by Jason Boland and The Stragglers and Turnpike Troubadours.
Jason Boland and The Stragglers circa 1998 has become one of the most successful artists in the Red Dirt/Texas country music scene.  Oklahoma born and bred, Boland has remained a true craftsman of genuine, no frills country music for nearly two decades. His new album "Hard Times Are Relative" releases May 18th    and finds Jason Boland and The Stragglers once again expanding the boundaries of what country music can be while staying true to its original purpose: story telling in its purest form.  Check 'em out at www.thestragglers.com
Acclaimed Oklahoma roots-rock powerhouse Turnpike Troubadours released their lastest album A Long Way From Your Heart on October 20th of 2017 and achieved the rare feat of creating an album that is immediately accessible, yet continues to reveal greater depth upon each listen. With his vivid character sketches and blue-collar narratives, Evan Felker continues to solidify his place as one of the finest songwriters to come out of the dustbowl in recent years.  Check 'em out at www.turnpiketroubadours.com