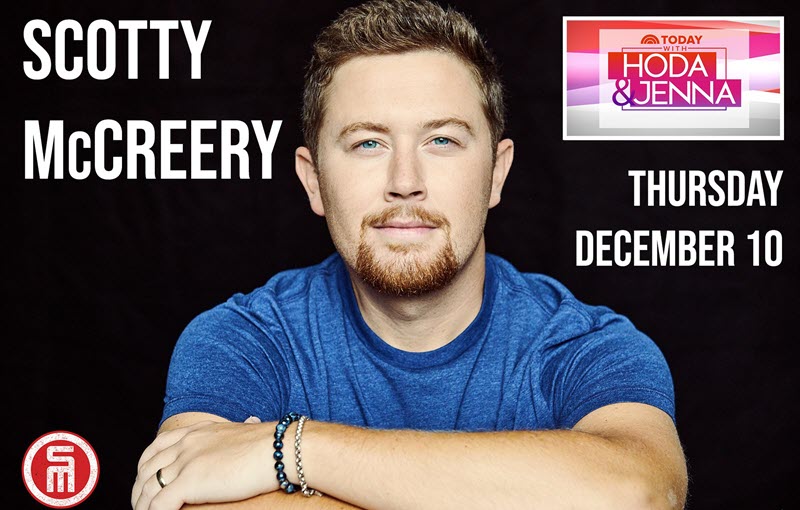 Scotty McCreery will perform "You Time" on NBC's "TODAY with Hoda & Jenna" Dec. 10 | Photo Credit: John ShearerScotty McCreery will perform his new single "You Time" on NBC's "TODAY with Hoda & Jenna," on Thursday, Dec. 10, during the 10 a.m. ET hour.  Scotty will also deliver a special surprise for an unsuspecting fan that you won't want to miss.
 
McCreery has been hard at work on the highly anticipated follow-up to RIAA Gold-Certified Seasons Change, with "You Time" as the lead single.
"You Time" follows McCreery's three back-to-back No. 1's from Seasons Change: the RIAA Double-Platinum Certified "Five More Minutes," RIAA Platinum-Certified "This Is It" and RIAA Gold-Certified "In Between."
News Update:  Watch Scott McCreery perform You time on TODAY
Written by McCreery, Frank Rogers and Aaron Eshuis, and produced by Rogers, Eshuis and Derek Wells, the track has garnered more than 3 million streams since its release in September and is already climbing the charts with an additional 26 adds from Country radio today. "You Time" is currently being played on more than 90 chart-reporting Country radio stations to date. Billboard notes, "the first single from his forthcoming album bodes well for his streak of three back-to-back No. 1's to continue," while MusicRow proclaims of McCreery, "as always, he's a country beacon," and of the track "upbeat and romantic, this has a lot going for it."
This fall, McCreery was the first act to welcome the return of live concertgoers to the Ryman Auditorium, where he gave the debut performance of latest single "You Time" to both a national livestream pay-per-view audience as well as a sold-out limited in-venue audience of fans in the 'LIVE AT THE RYMAN' series. This was a full-circle moment as McCreery's sold-out performance in March of this year marked the last show by a single artist act to take place prior to the Ryman's temporary suspension of operations.
 
Since that mid-March show, the multi-Platinum-selling artist has given more than 100 livestream performances as part of what he calls his Somewhere in Quarantine Tour, reaching tens of thousands of online viewers with each individual event, including his intimate Sessions Live Acoustic Concert Livestream last week where he performed for fans around the globe from the Lincoln Theatre in his home city of Raleigh, North Carolina.  The "Somewhere in Quarantine Tour" benefit t-shirt is a perfect gift for Scotty McReery fans, as a portion of profits of this shirt are being donated to the MusiCares COVID-19 Relief Fund to help those in the music community affected by the Coronavirus pandemic.
Don't miss Scotty's return to the Grand Ole Opry stage  Saturday, December 12 – catch the livestream on Circle television, Dish Network and Sling TV.
#ICMI @ScottyMcCreery performed his new single "You Time" Dec 10 on @nbc TODAY with Hoda & Jenna @HOdaAndJenna - watch it now on ACountry #nowplaying #countrymusic #youtime #scottyalert
Click To Tweet
Scotty McReery achieved new heights by earning three back-to-back No. 1 hits from his most recent album Seasons Change, the RIAA Gold-certified project which debuted at No. 1 on the Billboard Country Album chart: the RIAA Double Platinum-certified "Five More Minutes," the RIAA Platinum-certified "This Is It," which stayed at the top of the charts for two weeks, and RIAA Gold-certified "In Between." His single "You Time" from the forthcoming follow-up to Seasons Change is available everywhere now. He co-wrote all 11 songs on Seasons Change. All four of his albums have debuted at No. 1 on a Billboard Albums chart, with current combined sales surpassing 3 million copies.
He's earned one Double Platinum, four Platinum and one Gold singles; won the 10th season of "American Idol" in 2011; was named the ACM New Artist of the Year in 2011; won the CMT Music Award for Breakthrough Video of the Year ("The Trouble with Girls") in 2012; American Country Awards for New Artist of the Year in 2011 and Breakthrough Artist of the Year in 2013; BMI Awards for writing One of the Top 50 Country Songs of the Year three times (in 2015 for "See You Tonight," in 2018 for "Five More Minutes," and in 2019 for "This is It"); a Carolina Beach Music Award for National Dance/Shag Song of the Year ("Barefootin'") in 2018; and the NSAI Nashville Songwriter Award for One of the Top Ten Songs I Wish I'd Written ("Five More Minutes") in 2018.
The North Carolina native released his first book, Go Big or Go Home: The Journey Toward the Dream, in 2016; it was recently re-released in paperback in 2020. McCreery launched his recording career by making history in 2011 as both the first country artist and the youngest male artist of any genre to debut his first studio album, the Platinum-certified Clear As Day, at No. 1 on the all-genre Billboard Top 200 Albums chart.
For more information, visit  ScottyMcCreery.com.
Source:  Essential Broadcast Media