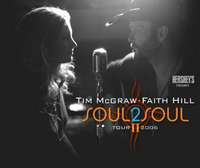 Tim McGraw and Faith Hill's Soul2Soul II Tour 2006 is on pace to be the hottest concert event of the year. The tour has already sold more than 350,000 tickets to become the fastest selling concert tour of 2006.
News Update:  Soul2Soul 2017 Tour Dates
Kicking off April 21 in Columbus, Ohio, Tim McGraw and Faith Hill's Soul2Soul II Tour has taken minutes to sell-out performances in Denver, Hershey, Greenville, Dallas, New York City, Pittsburgh, as well as multiple night appearances in Boston, Chicago and Columbus. Additional shows, to accommodate the frenzied sales pace, have been added in Seattle, Boston, Columbus, New York City and Chicago and more additions are expected to be announced in the coming weeks. "When two artists like Tim and Faith decide to tour, it's not just a tour, it's a concert event that is not to be missed," said Larry Vallon, Senior VP, AEG Live.
"Only Tim and Faith can top Tim and Faith," said Brian O'Connell, President, LiveNation Country Touring. "Faster sales than the first Soul2Soul Tour, an entirely new production and nearly 35 No 1 songs between them – the way their fans have gobbled up tickets should really come as no surprise."
Soul2Soul II Tour 2006 tickets for ten shows, including a very special hometown performance at Nashville's Gaylord Entertainment Center, as well as in Detroit, St. Paul, Jacksonville, Tampa, Kansas City, Salt Lake City, Philadelphia and at The Staples Center on August 17 in Los Angeles go on-sale this weekend.
Fans can expect a great seat anywhere in the house with "Soul2Soul II" Tour's unique in-the-round set design that will put fans closer than ever to the concert action.
Tim McGraw and Faith Hill tour dates are updated as more shows are confirmed.
source: timmcgraw.com
: : : : :
Buy Tim McGraw / Faith Hill tickets
Buy Faith Hill now from Amazon
Buy Tim McGraw now from Amazon
listen to Faith Hill free samples / download from iTunes