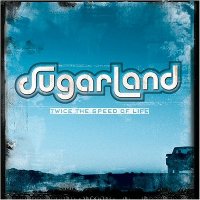 Sugarland just received the news that their debut album, Twice The Speed of Life, has been certified Gold by the Recording Industry Association of America. Jennifer Nettles, Kristen Hall and Kristian Bush make up the talented trio of singer/songwriters from Atlanta.
"We are all thrilled to find out the record has gone Gold," says the trio. "It is a tangible milestone for a lot of hard work by a lot of great people. We want to thank our fans for their enthusiastic support that made this possible." Their hit "Baby Girl" is the highest-charting debut single by a country group in 14 years and for the last month, Sugarland's album has been in the Top Ten on Billboard's Top Country Albums chart. In addition, the trio wrote
all 11 tracks on their debut album. Currently, Sugarland has two songs on Billboard's Hot Country Singles and Tracks chart in the Top 20 – "Baby Girl" at #14 and "Something More" at #19 – marking the first time in recent history that a debut group has two singles in the Top 20 simultaneously.
Billboard Magazine states, "These fine musicians are a breath of fresh air in the country format and are well-poised for a solid future." Luke Lewis, Co-Chairman of Universal Music Group Nashville, who signed Sugarland to Mercury Records, agrees, "Their live presentation is as exciting as anything I have ever seen. This well deserved achievement points up the advantage of having a group comprised of seasoned and highly gifted artists who have combined
their talents to make an undeniable album. We look forward to much success together in the future."
Upcoming appearances for Sugarland include a performance on Good Morning America on June 1st, as well as a presenting spot on the Academy of Country Music Awards on May 17th.
source: Insight Management
: : : : :
listen to Sugarland free samples / download from iTunes