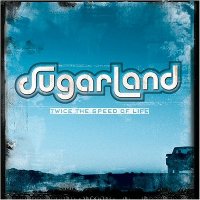 A big ACountry salute and congratulations to Jennifer Nettles, Kristen Hall and Kristian Bush – Sugarland's debut album, Twice The Speed of Life, has just been certified Platinum by the Recording Industry Association of America, commemorating sales of more than 1,000,000 copies.
This is their biggest sales week to date, selling 45,229 units. Their album has been in the Top 5 on Billboard's Top Country Albums chart for 7 consecutive weeks and in the Top 10 for 14 consecutive weeks. In addition, all 11 tracks on the record were written by the trio of singer/songwriters from Atlanta.
Last July, Jennifer Nettles, Kristen Hall and Kristian Bush were being introduced to the country music industry. Exactly one year ago today was the add date for their debut single "Baby Girl." Sugarland's accomplishments in only one year's time are:
* Two Top 5 singles – "Baby Girl" and "Something More"
* Platinum debut album
* The highest-charting debut single by a country group in 14 years
* The longest running single in the history of the monitored chart era
* Standing ovations at the 40th Annual Academy of Country Music Awards and the 2005 CRS New Faces show
* National television performances on the CMT Music Awards, The Tonight Show with Jay Leno and Good Morning America
"What a fast rocket we've been on," says the trio. "It's moved so quickly! We were super excited for Gold so to then move to Platinum is truly unbelievable! Thanks to all the fans who went out and bought the record after hearing the songs on the radio, seeing the videos or coming to one of our shows."
Luke Lewis, Co-Chairman of Universal Music Group Nashville, says, "The great news is that Sugarland has only scratched the surface. Their live show is one of the best in the business and the album contains several more singles. They are on their way to becoming superstars."
Don't miss Sugarland's performance of "Something More" on the CMA Music Festival TV special airing August 2 on ABC-TV.
source: UMG Nashville
: : : : :
listen to Sugarland free samples / download from iTunes