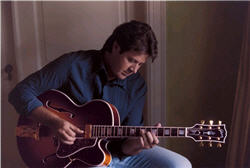 Vince Gill is back on the charts with the first single "The Reason Why" from his forthcoming 4-cd set, These Days. Vince says his original intent was just to do one album, but "I just got in the studio and was starting to make this record, and I kept saying, well, I wrote this song, and I'd sure like to hear how it would turn out. And everyone was available, so I just kept recording songs.
About four or five weeks later, I had recorded 31 songs. I was looking at a poster of Beatles releases and saw they had released 3 different albums all within a year, and that's unheard of these days. I thought each of these songs you could put on their own record. So I went to the record company and said 'How about we try something different?' and they were all for it. They sent me back in to record one more record. I'm very proud of the project." These Days is in stores October 17, 2006.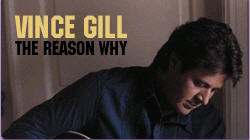 listen to The Reason Why free sample / download from iTunes
Seventeen-time Grammy award-winning artist Vince Gill has sold more than 22 million albums. Among his many musical honors include his induction into the Grand Ole Opry in 1991 and winning five Academy of Country Music Awards. In addition to his music and performing, Gill is also dedicated to giving back to those in need. Gill dedicates much of his time to programs for children's recreation and education, the terminally ill, the homeless and hungry, cultural and environmental preservation, and the humane treatment of animals. In 1993, Gill established "The Vinny," an annual pro/celebrity golf tournament, to raise money for the Junior Golf program. Gill also sponsors and participates in dozens of organized charities, and nearly all of his concerts have a local charity component as well. Gill was presented the 2006 Academy of Country Music/The Home Depot Humanitarian Award on May 23, 2006.
source: MCA Records
: : : : :
Buy Vince Gill now from Amazon