Vince Gill's These Days Tour will take fans on a musical journey encompassing fan favorites and selections from his new album, These Days. The tour kicks off October 16, 2006 in New York and will feature a four segment performance with a shifting cast of nearly 20 musicians and background singers.
The tour heralds the October 17 release of Gill's These Days album, a 4-CD collection of 43 new songs, all of which the singer wrote or co-wrote. Each CD in the set spotlights a different style of music, ranging from country to bluegrass to jazz-inflected pop to straight-out rock 'n' roll. Gill launched this artistic tour de force with the single "The Reason Why," which features the angelic guest vocals of Alison Krauss.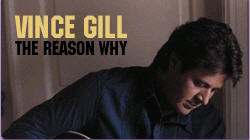 Other guest artists on the album include Sheryl Crow, Bonnie Raitt, Diana Krall, Rodney Crowell, Phil Everly, the Del McCoury Band, Emmylou Harris, John Anderson, Lee Ann Womack, Jenny Gill, Amy Grant, LeAnn Rimes, Gretchen Wilson, Guy Clark, Trisha Yearwood, Bekka Bramlett, Michael McDonald, and steel-guitar master Buddy Emmons.
To showcase the new songs on his tour, while still covering his most-requested standards, Gill will begin each segment with selections from his hits and then introduce, in turn, new material from the four CDs that make up the album. They are "Some Things Never Get Old – The Country & Western Record," "Little Brother – The Acoustic Record," "The Reason Why – The Groovin' Record," and "Workin'Äô On A Big Chill – The Rockin' Record." The show will run for approximately three and a half hours, including an intermission.
In spite of size and length of the show, Gill has insisted on keeping the ticket prices affordable. "Vince wants this to be a show that couples and families can enjoy," says his manager, Terry Elam of the Fitzgerald-Hartley Co. On the three-tier pricing system in place throughout the tour, tickets will top out at around $50.
Gill will be backed by a core band made up of Jeff White, guitar and vocals; Billy Thomas, drum and vocals; Pete Wasner and John Hobbs, keyboards; Tom Britt, electric guitar; Michael Rhodes, bass; and Dawn Sears, background vocals.
Additional players, who will be brought in as the musical styles shift, are Charlie Cushman, banjo, acoustic guitar, mandolin, dobro; Al Anderson, electric guitar, acoustic guitar, vocals; Russ Pahl, steel guitar; Deanie Richardson, fiddle; Doug Moffit, baritone sax; Mark Douthit, tenor and alto sax; Mike Haynes, trumpet; Barry Green, trombone and horn leader and Bekka Bramlett, backup vocals.
"It's been like casting a movie," Gill says of putting his musicians together. "All these guys are endlessly talented."
Vince Gill These Days Tour dates
Oct 16 ….. New York, NY ….. Nokia Theatre Times Square
Oct 19 ….. Worcester, MA ….. Mechanics Hall
Oct 20 ….. Glenside, PA ….. Keswick Theatre
Oct 23 ….. Columbus, OH ….. Palace Theatre
Oct 24 ….. Louisville, KY ….. Whitney Hall
Oct 25 ….. South Bend, IN ….. Morris Performing Arts Center
Oct 26 ….. Milwaukee, WI ….. Riverside Theatre
Oct 27 ….. St. Paul, MN ….. O'Shaughnessy Auditorium
Oct 28 ….. Chicago, IL ….. Chicago Theatre
Oct 30 ….. Dallas, TX ….. Meyerson Symphony Center
Oct 31 ….. Fayetteville, AR ….. Walton Arts Center
Nov 02 ….. Mobile, AL ….. Saenger Theater Performing Arts
Nov 03 ….. Duluth, GA ….. Gwinnett Center For The Performing Arts
Nov 04 ….. Charlotte, NC ….. Ovens Auditorium
Nov 08 ….. Mesa, AZ ….. Mesa Arts Center
Nov 11 ….. Escondido, CA ….. California Center For The Arts
Nov 12 ….. Los Angeles, CA ….. The Wiltern
Nov 14 ….. Bakersfield, CA ….. Fox Theater
Nov 16 ….. Seattle, WA ….. Paramount Theatre
Nov 17 ….. Portland, OR ….. Roseland Theater
Nov 18 ….. Spokane, WA ….. INB Performing Arts Center
Nov 20 ….. Salt Lake City, UT ….. Abravanel Hall
Nov 21 ….. Denver, CO ….. Paramount Theatre
Dec 07 ….. Las Vegas, NV ….. Las Vegas Hilton Theater
Dec 08 ….. Las Vegas, NV ….. Las Vegas Hilton Theater
Dec 09 ….. Las Vegas, NV ….. Las Vegas Hilton Theater
Seventeen-time Grammy award-winning artist Vince Gill has sold more than 22 million albums. Among his many musical honors include his induction into the Grand Ole Opry in 1991 and winning five Academy of Country Music Awards. In addition to his music and performing, Gill is also dedicated to giving back to those in need. Gill dedicates much of his time to programs for children's recreation and education, the terminally ill, the homeless and hungry, cultural and environmental preservation, and the humane treatment of animals. In 1993, Gill established "The Vinny," an annual pro/celebrity golf tournament, to raise money for the Junior Golf program. Gill also sponsors and participates in dozens of organized charities, and nearly all of his concerts have a local charity component as well. Gill was presented the 2006 Academy of Country Music/The Home Depot Humanitarian Award on May 23, 2006.
source: MCA Records/AAPR/Morris Public Relations
: : : : :
Buy Vince Gill now from Amazon