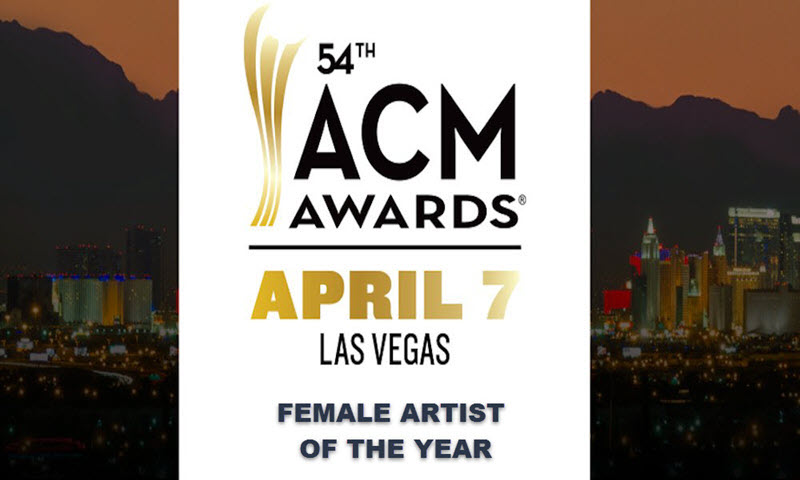 2019 Academy of Country Music Awards nominees for Female Artist of the Year are Miranda Lambert, Ashley McBryde, Maren Morris, Kacey Musgraves, and Carrie Underwood.  Here's a look at each of the contenders.  The winner will be announced tonight at the ACM Awards live from Las Vegas.
News update:  2019 ACM Awards Winners
FEMALE ARTIST OF THE YEAR
Miranda Lambert
Miranda Lambert is one of country music's leading ladies. Between her solo career and Pistol Annies (alongside Ashley Monroe and Angaleena Presley), she has helped to pave the way for women and their position in the industry. She's known for writing about her life's experiences in a way that makes them relatable to people of all audiences, including her marriage and divorce from Blake Shelton. She secretly married NYPD officer Brendan McLoughlin earlier this year in Tennessee, and we've got to admit: we're shipping them SO HARD!
Ashley McBryde
Ashley McBryde  is a 35 year-old country singer from Mammoth Spring, Arkansas. She learned to play the guitar as a teenager and quickly fell in love with the art, eventually made the move to Nashville to pursue a career in country music. She's released a solo album titled Jalopies & Expensive Guitars, and her song "A Little Dive Bar in Dahlonega" was named as one the Top 25 Best Country Songs of 2017 by Rolling Stone. That's quite the feat!
Maren Morris
Maren Larae Morris, born in Arlington, Texas, specializes in singing, songwriting, and record producing primarily in country music, but has also crossed over into Pop from time to time (I.e. The Middle by Zedd feat. Morris). She married the love of her life, Ryan Hurd (also a country singer/songwriter) at the beginning of last year, and it's not secret that all of her love songs are about him. She's shaking things up around here, and we're totally here for it!
Kacey Musgraves – WINNER
There are many, many things to say about Kacey Musgraves. She's talented, witty, and diverse, adding different dimensions to country music that we've missed. Her truths are prevalent in every one of her songs, her passion is unquestionable, and her style? 10/10. Her newest album, Golden Hour, has taken her career to new heights, even earning her an opening spot on Harry Styles' tour. Could she take him yet another one for this incredible album? We wouldn't be surprised if she did!
Carrie Underwood
Carrie Underwood is a household name at this point. Even if you don't know much about country music, we can give you a 90% guarantee that you know the words to Before He Cheats or Jesus Take The Wheel by heart. As a mother, wife, and performer, Carrie puts every ounce of heart that she has into each song and inspires so many, both male and female alike. Her powerful vocals and unique songwriting abilities make her a powerhouse, and have earned her many accolades such as Grammy Awards (7), CMA Awards (9), American Music Awards (13) and many, many more!
2019 ACM Awards nominees for Female Artist of the Year are Miranda Lambert, Ashley McBryde, Maren Morris, Kacey Musgraves, and Carrie Underwood. Who's your pick?
Click To Tweet
Check out the full list of 2019 ACM Awards nominees. The ACM Awards will be broadcast live from MGM Grand Garden Arena in Las Vegas on Sunday, April 7 at 8:00 PM ET/PT on CBS.  Who's your pick to win Female Artist of the Year?