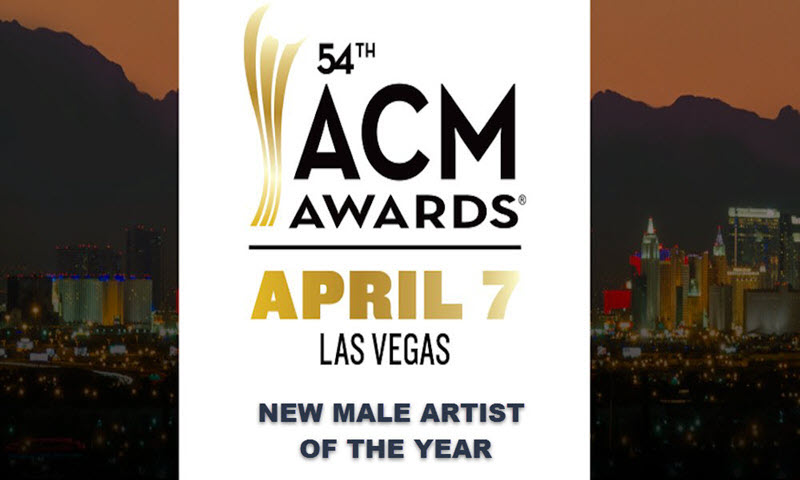 Congratulations to Luke Combs – 2019 ACM Awards New Male Artist of the Year, edging out Jimmie Allen, Jordan Davis, Michael Ray, and Mitchell Tenpenny.  Here's a look at each of the contenders.  ACM New Artists winners were announced March 25.  Find out the rest of the winners April 7 during the ACM Awards live broadcast from Las Vegas.
News update:  2019 ACM Awards Winners
NEW MALE ARTIST OF THE YEAR
Luke Combs – WINNER
Luke Combs is a personal favorite of mine, having stolen all of my attention with Hurricane when it was topping the charts just two years ago. His first five singles also made it to the #1 spot on Billboard's Country Airplay, making him the first artist to achieve such an amazing feat. It's not hard to see why he's been named the winner of this amazing award!
Got some pretty awesome news yesterday… Thanks for the call, @carrieunderwood! This is a dream come true and I'm so thankful for all of you. Can't wait for the @ACMawards! pic.twitter.com/0Idtocebkn

— Luke Combs ? (@lukecombs) March 25, 2019
Jimmie Allen
I'm sure you've heard "Best Shot" and "Mercury Lane", so you can see why Jimmie Allen was nominated for this category! Jimmie moved from Delaware to Nashville in 2007, spending his first few years living in poverty and often lived out of his vehicle. He befriended fan-favorite Scotty McCreery during the short time period they spent together on season 10 of American Idol before Jimmie was sent home, and although he struggled to move forward afterward, he didn't let anything hold him back. He's truly an inspiration and we're so proud of him!
Jordan Davis
We jam out to "Singles You Up" all summer long, along with the rest of Jordan Davis's album, Home State. While he's not as established as the nominees in this category, that doesn't make Jordan  or his talent any less qualified. He and his brother followed in their father's footsteps as country performers (and song writers), and the potential Jordan shows is exciting. We're rooting for him and can't wait to see if he pulls it off next year!
Michael Ray
Michael Ray is an up-and-coming country artist, and the significant other of one of our other favorites, Carly Pearce. He was inspired by his grandfather, the man who taught him how to play guitar and helped him to start down the road as a performer by setting up small gigs in assisted living homes. His story is as humble as any, but don't let that fool you into thinking that he's just another temporary addition to the music industry!
Mitchell Tenpenny
Mitchell Tenpenny knew from a young age that he wanted to make music, growing up listening to music of all ranges and being the grandson of Donna Hilley, CEO of Sony/ATV music publishing. Talk about having connections! On a side note, we are completely OBSESSED with Mitchell's top hit, Drunk Me. Similar to Jordan Davis, he hasn't picked up as much traction as other artists, but we just like to think of that as him being a "hidden treasure" and we believe he's destined for big things!
Congratulations to Luke Combs - 2019 ACM Awards New Male Artist of the Year, and fellow nominees Jimmie Allen, Jordan Davis, Michael Ray, and Mitchell Tenpenny. Watch videos from the nominees on ACountry
Click To Tweet
Check out the full list of 2019 ACM Awards nominees. The ACM Awards will be broadcast live from MGM Grand Garden Arena in Las Vegas on Sunday, April 7 at 8:00 PM ET/PT on CBS.