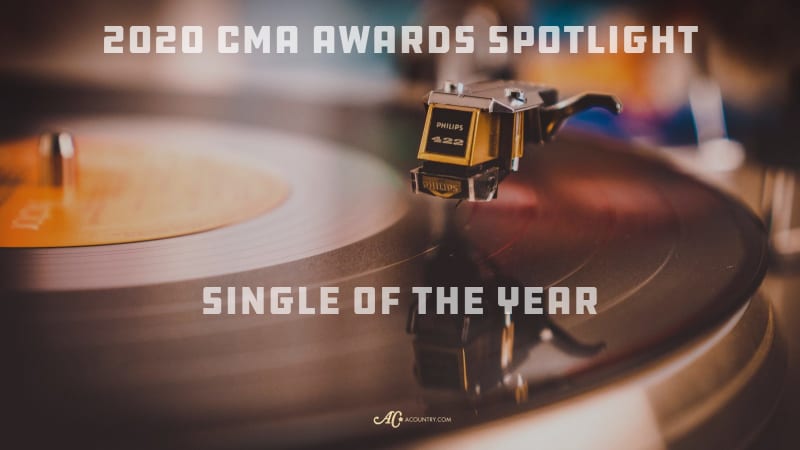 Hey, y'all happy Wednesday and happy Veterans Day! I hope we are all enjoying this November weather and celebrating country music for the CMA Awards tonight. I wanted to take one last look at the categories before the show and give my predictions on who will win Single of the Year.
I was familiar with most of these artists so it was great being able to explore a showcase of their talents.
News Update:  2020 CMA Awards Winners
"10,000 Hours" – Dan + Shay (with Justin Bieber)
This light-hearted vibe is a nice offset to this year. I'm glad that a celebration of love and joy made the list of best singles. The talent that Dan + Shay have mixed with Justin Bieber's vocals over this airy track created a track that will get stuck in your head for hours at a time. Stand out lyrics from this song would be "I'd spend ten thousand hours and ten thousand more / Oh, if that's what it takes to learn that sweet heart of yours."
"Bluebird" – Miranda Lambert
I live for this independent woman track that Miranda Lambert blessed our ears with. Providing strong like only Lambert can, this heavy on the heart track is so easy to sway too. Lambert's talent as a song-writer and singer is perfectly illustrated here, especially with the standout lyrics of "Like the records I'm playing / They might keep you waiting / But you know I'm gonna play 'em for keeps," because I mean come on. All of her tracks are played on repeat. I always pull for Lambert to sweep but I'll keep the cards close to my chest on this one.
"The Bones"- Maren Morris
This song has 'Baba O'Reilly' vibes – meaning that this song provided so many nostalgic feelings when I listened to this track. I was back in high school driving home from school with the windows down. Maren Morris has an excellent voice and as she hums along to her tune, you can't help but bob your head along. The standout lyric for this song is "The house don't fall when the bones are good," which felt really wise and something I pondered on for a hot second. A great nominee for this category.
"I Hope"- Gabby Barrett
Oh, SNAP! This song is good. This is an excellent contender – one that I actually saved to my Spotify playlist. When I first listened to this song, I was like aww what a sweet country sound about hoping your ex has a great life then BAM "I hope she cheats / like you did on me." Yikes! That is a rough thing to hear. Can you imagine driving down the road and hearing this song come on the radio and know it is about you? Hilarious. I really think this is an excellent addition. "Bluebird" has some competition.
"Beer Never Broke My Heart"- Luke Combs
Clearly Mr. Combs has never had a room temperature PBR (hot a** in a can, y'all,) but moving on, this was such a rager! Combs' unique vocals sounded great alongside this rock/country anthem as he shows of his range singing about his first true love: ice cold beer (alright, Luke. You got us on this one.) The standout lyrics from this one are, "Well, it takes one hand to count the things I can count on / But I got one hand that's gripping down on a cold one." Which after experiencing 2020, raw dogging reality is not on the menu so this was supppppperr relateable.
Nominees for #CMAawards Single of the Year nominees are @DanAndShay @MirandaLambert @MarenMorris @GabbyBarrett_ @LukeCombs - Listen to the nominated singles on ACountry - who's your pick to win?
Click To Tweet
Well all in all, this is going to be a tight race! Down at the end, I personally think Ms. Lambert will pull ahead for single of the year, but man if "I Hope" doesn't give "Bluebird" a run for their money, I will be shocked. What did y'all think on my two standouts? Do you agree? I can't wait to tune into tonight to see if I am right!
The 54th Annual CMA Awards will be broadcast live November 11 on ABC. Who's your pick to win Single of the Year at the 2020 CMA Music Awards?
PAST CMA AWARDS WINNERS