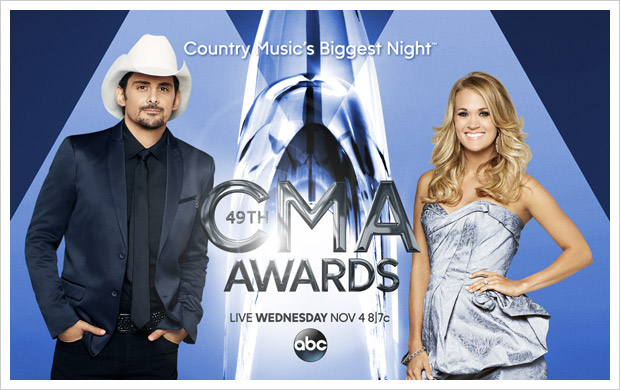 It is hard to believe that it is already almost the most wonderful time of the year.  No, we're not talking about Christmas at "meemaws"– we're talking about the 49th Annual CMA Awards. The show will air live Wednesday, November 4th at 8:00 PM/ET.  We have four major reasons you will not want to miss out on this years show.
1. The Hosts With the Most
With hits like "Jesus Take the Wheel" and "Before he Cheats" There is no doubt that Carrie Underwood is going to stun the crowd as she stands under those bright lights. The one and only Brad Paisley will be sharing the spotlight.  We sure are thrilled to see how two of the hottest names in country music will "wow" us that night.
2. Thomas Rhett + Fall Out Boy = WHAT
That is no typo folks, Thomas Rhett is going to have a musical collaboration with rock band Fall Out Boy. While we are not exactly sure what kind of music this will bring to our ears, if it is anything like "Crash and Burn" We will approve.
3. Musical Event of the Year
It has been quite the year for Blake Shelton. He is nominated for Musical Event of the Year alongside Ashley Monroe for their beautiful single, "Lonely Tonight". Monroe and Shelton must be doing something right because this is Shelton's second Musical Event of the Year nomination with her.
4. The Lineup
The rumors are true – Jason Aldean, Luke Bryan, Sam Hunt and Blake Shelton are all performing live.  Justin Timberlake? He'll be there too.  We can't wait to see what songs they will grace us with. Here are some other reasons/names you will want to watch: Miranda Lambert, Maddie & Tae, Kacey Musgraves, Hank Williams, Jr and Keith Urban.
It's going to be a hot night in Nashville. Make sure that you tune in or set your DVR's so that you will not miss out on any of the action. As Carrie Underwood would say, we have a feeling that there is going to be "Something in the Water" that night.