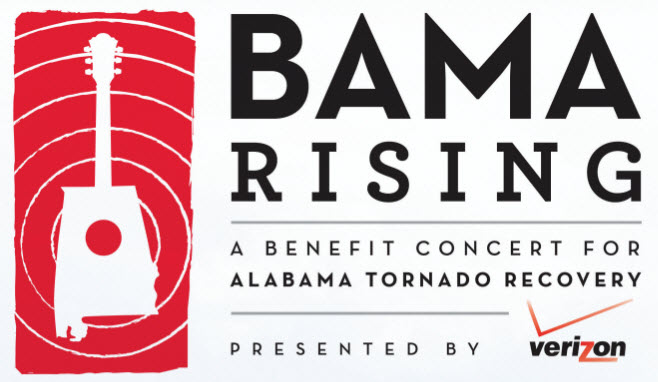 Bama Rising: A Benefit Concert for Alabama Tornado Recovery will be held June 14, 2011 at BJCC Arena in Birmingham, Alabama. Arists scheduled to perform include Alabama, Brad Paisley, Rodney Atkins, Sheryl Crow, Little Big Town, Martina McBride, Sara Evans, Montgomery Gentry, Dierks Bentley, Luke Bryan, David Nail, Jake Ownen, Kellie Pickler, Darius Rucker, Ashton Shepherd, Bo Bice, and Taylor Hicks.
"My hope is that this will bring happiness and help to my fellow citizens in Alabama. I believe it's extremely important that we do this benefit, and I want everyone in the state to feel like they are part of it. I hope we all can pull together to help get through the worst natural disaster I've ever seen in Alabama. I appreciate my friends in country music, everyone that's been involved, and anyone that's helped in any way," said Alabama vocalist Randy Owen.
Bama Rising tickets are on sale now. In addition to ticket sales, funds will be raised through corporate sponsorships of the event. For information on becoming a corporate sponsor, please contact Jay Wilson at Red Mountain Entertainment – 205.585.2531 or jay@redmountainentertainment.com.
If you can't make it to the concert, you can support Bama Rising by texting BAMA to 501501 to donate $10 billed to your cell phone bill.
The Bama Rising Fund has been established at the Community Foundation of Greater Birmingham to support long-term recovery statewide in the wake of the April 2011 tornadoes that devastated Alabama. Decisions about how to deploy Bama Rising concert proceeds and gifts to the Bama Rising Fund will be made by an advisory committee including representatives of the artists, promoters and the Community Foundation.
The Community Foundation of Greater Birmingham is the oldest and largest community foundation in Alabama, dedicated to driving positive change through grants, leveraging donor giving to meet community needs, and works with other organizations to collaborate and bring resources together. The Community Foundation has experience in distributing donations in previous disasters, including tornadoes in 1998 and 2002 and following the evacuation of survivors of Hurricane Katrina survivors to the Birmingham area in 2005. For more information, go to www.foundationbirmingham.org.