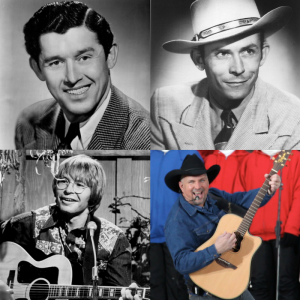 One of the most common topics of debate we see throughout blog posts and social media channels is what constitutes country music. If you want to get down to the nitty gritty, country music is a style of music that originated in the Southern United States in the 1920's. It draws influences from styles such as Appalachian folk music, blues, gospel and traditional Celtic music.
Stylistically, country music is a diverse collection of both ballads and foot stompin' dance tunes with [generally] simple forms and chord structures. Country music is typically played on instruments such as banjos, electric and acoustic guitars, dobros, fiddles, harmonicas, drums, and more. The term "country music" came into play in the 1940's as a preferential term to the previous "hillbilly music" moniker.
Today, terms aren't that simple. Do we just call that classic style of music described above "country" or can it be used to describe any type of music performed by working class Americans? We here at ACountry like to think of it as a nice happy medium between the two.
Country music has a plethora of "sub-genres." Let's break down some of the most popular styles of country music and even if it's not your favorite kind of music, we hope you'll be able to appreciate all of these styles and see why they're part of "country music" as a whole.
Appalachian Folk
Appalachia is a region in the Eastern United States. You can't mention country music without seeing how it's rooted back to Appalachian Folk Music. This kind of music is a true melting pot of influences derived from African folk songs, English ballads, traditional Irish and Scottish music using fiddles, and African American blues. Without these early influences music, styles like bluegrass and early country music certainly wouldn't exist. The fiddle and banjo are the most commonly used instruments and guitars were rarely used during most styles of music during this era.
Appalachian Folk artists include: Fiddlin' John Carson, Bascom Lamar Lunsford, Clarence Ashley, and Dock Boggs
Bluegrass
Originally derived from Appalachian Folk music, bluegrass has come into the limelight in a league of its own. What takes it a step further from early Appalachian folk is drawing influence from jazz and incorporating elements of improvisation. Instead of playing a song from front to back, musicians would play the same chord structure while a musician would make up their own melodies over it. Today, bluegrass is a widely followed genre with internationally esteemed festivals (Telluride Bluegrass Festival, RockyGrass) and bluegrass artists headlining some of the most coveted music venues in the world like Red Rocks, The Gorge, and beyond.
Artists include: Earl Scruggs, Sam Bush, David Grisman, Johnson Mountain Boys, and Nickel Creek
Classic Country
Classic country is mainly a term used by radio stations to describe country and western hits that have been made over the course of the last few decades. Usually, this can be divided into two formats. The first specializes in hits from the 20's to 70's focusing on artists from the style's "Golden Age" like Hank Williams, George Jones, and Johnny Cash. The second focuses on the 60's through 90's with artists such as Waylon Jennings, Merle Haggard, George Strait, and Garth Brooks.
Outlaw Country
The outlaw country movement started in the 70s and 80s as a reaction to country music taking a "pop" spin with sleek production, generic structures, and commercializing the Nashville sound. The style uses throwback elements like honky tonk and rockabilly flavors and tends to have more introspective lyrics.
Outlaw artists include: Waylon Jennings, Willie Nelson, Kris Kristofferson, and Hank Williams Jr.
Red Dirt
Red Dirt country music gets its name from the literal red dirt found in Stillwater, Oklahoma. The Red Dirt sound can be compared to the Muscle Shoals deep soul sound in the sense that it is so distinguishable, you almost can't describe it in words. Red Dirt music has subtle rock elements and lyrical attitude that expand the realms outside of classic country. Artists include: Cross Canadian Ragweed, Bob Cliders, Step Ripley and Tom Skinner.
Texas Country
Texas country is one of the most rapidly expanding sub-genres of country music. This music focuses on traditionalist musical roots with outspoken views on the common working man and blunt topics that are often comical and witty. Robert Earl Keen, Kevin Fowler, Jack Ingram, and Cory Morrow are perfect examples of Texas country artists.
Alt-Country
Alt-country, short for "alternative country" is characterized by the fusion of country music and alternative rock. This style was pioneered by Jason and the Scorchers in the 1980s. Many purists shun this style because it is highly produced and has a more "punk rock" aesthetic. Artists in this style include: Blood Oranges, Blue Mountain, and Drive-By-Truckers.
Pop Country
This style often refers to pop artists who have decided to "go country" or country artists who aim to have a more mainstream, popularized sound. You can often find pop country songs on the mainstream Top 40 Billboard charts. American Idol also helped popularize this sub- genre in modern times. Examples of pop country artists are: Shania Twain, LeeAnn Rimes, Lee Ann Womack, Taylor Swift, and Rascal Flatts.
Bro-Country
Perhaps the most criticized style of country music is bro-country. This term was recently coined to describe country music originating in the second decade of the 21s century that infuses elements of hip-hop, hard rock, and electronica. Style aside, this style has been criticized by purists for talking about shallower topics like women, alcohol consumption, and partying.
Artists who tend to fall into this genre include: Florida Georgia Line, Luke Bryan, Jason Aldean, Blake Shelton
This guide barely scratches the surface with the vast array of country subgenres, but hopefully it shows that this is one of the most diverse styles of music that has endless possibilities.
We challenge all of our readers to go out there and listen to something new. Try it. You just might like it.