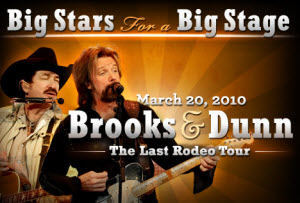 Don't miss your final chance to see Brooks & Dunn at the Houston Rodeo on Saturday, March 20, 2010.
Buy Brooks and Dunn tickets and witness history as Kix and Ronnie make their 19th and final performance at Rodeo Houston as part of The Last Rodeo Tour.
With separate beginnings in Texas and Louisiana, both Brooks and Dunn had worked as singer-songwriters before the duo's formation, charting singles of their own in the late 1980s. But, it was not until a pairing in Nashville did the two find their way to the top. Brooks & Dunn's music covers the full range of modern country music.
The duo blasted to stardom in 1991 with its debut album, "Brand New Man," and a number one hit. Not much has changed for this GRAMMY award winning team with 14 albums, more than 23 number one hits and 30 million records sold. They are two of the most recognizable artists in country music. Their last album, "#1s And Then Some," is a 30-song, double-disc collection featuring classic hits, chart-toppers and two new tracks. This most comprehensive collection to date for Brooks & Dunn fans spans 23 singles to hit the top of the country music charts over the duo's music career.