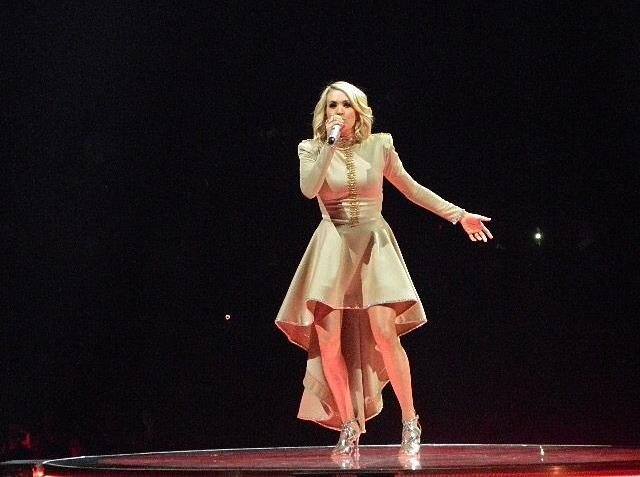 Can we talk about how perfect and relatable Carrie Underwood is? In her latest single, "Cry Pretty," we get a glimpse into Underwood's thoughts and emotions. Making her return at the ACM Awards (where she also won Vocal Event of the Year) last weekend after suffering from a fall and 40-50 stitches in her face, Underwood absolutely stunned the audience and received a standing ovation with "Cry Pretty."
Right off the bat, Underwood apologizes, letting the audience know she holds composure well and doesn't show her emotions often. This turns into her then apologizing for letting her emotions get the best of her, "I apologize, if you don't like what you see, but sometimes my emotions get the best of me and falling apart is as human as it gets." Cue my heart strings because Underwood could sing an entire song repeating "falling apart is as human as it gets," and I would instantly cry in relation. We haven't even gotten to the chorus yet.
"Pretty Cry's" chorus hymns real emotion. In a world full of newcoming mental health awareness and truth telling, Underwood's lyrics speak to more than just the country music fans. It speaks to anyone who needs to realize or has realized that it is okay to "pretty cry," it's okay to not be okay.
This is quite possibly the greatest returning debut song I've heard, especially after following the traumatic events that Underwood suffered from. If you haven't heard the song, you can catch it below and if you're wondering when her new album Cry Pretty comes out, well, that's September 14th – mark your calendars.
Have you listened to Underwood's latest single? Let us know what you think in the comments below or on Twitter!