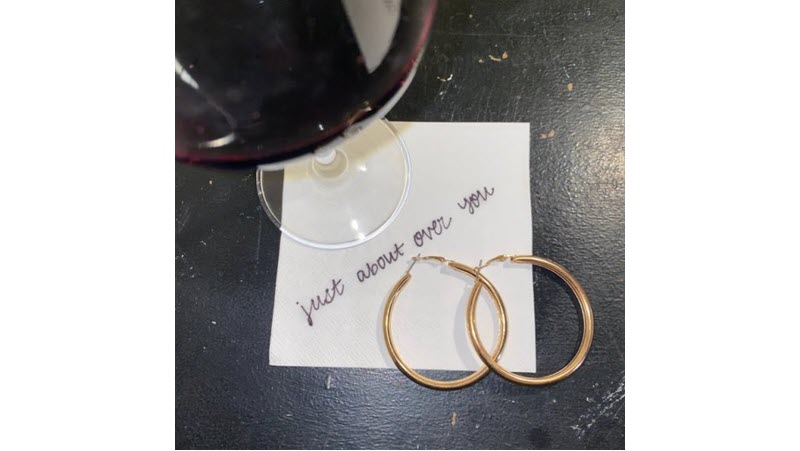 Priscilla Block is a viral sensation – but a close listen proves this girl has major talent and she's done it her way.
As reported by Rolling Stone, the singer-songwriter had just started to make a name for herself on TikTok with 330,000 followers, but had yet to break into the mainstream. That changed with the release of "Just About Over You" on Wednesday evening (August 5) – the song debuted at the top of iTunes' all-genre chart.
Priscilla wrote "Just About Over You" with Emily Kroll and Sara Jones.  One listen and your'e hooked.
Why'd you have to come back in right then
Right when I was just getting good and gone?
'Cause I was in the wrong place at the wrong time
You must've heard I was moving on
Then right out of the blue
A quarter past two, I'm all about you
When I was just about, just about over you
I was just about, just about over you
The new single arrives arrives 2 years after the release of her debut EP Different Route.  We checked out her EP – impressed is an understatement.
Discover Cool Music – Listen to Priscilla Block
Based in Nashville and hailing from North Carolina, Priscilla fuses country pop and southern rock to form the Block Party sound. Block's songs captivate audiences with their unfiltered, relatable messages and catchy melodies.
After spending a few years of writing and networking in Nashville, the "Songwriting Capital of the World", Priscilla is finally ready to share her collection of musical stories. "The more I write, the more I get to know myself. I love writing about real life experiences and the ups and downs that I've gone through. I don't sugarcoat anything, and I think that's the beauty of songwriting and being an artist," Block explained.
View this post on Instagram
Priscilla has played sold-out shows all across the Southeast, including Deep South the Bar in her hometown of Raleigh, NC, and The Listening Room in Nashville, TN. Additionally, Block has played festivals such as the North Carolina State Fair in Raleigh, NC and the Candler Park Music Festival in Atlanta, GA; she has opened for Adam Doleac and Gabby Barrett; played acoustic shows sharing the bill with Adam Craig and Dillon Carmichael; and has been the pre-show entertainment for acts such as the Dixie Chicks, Lady Antebellum, Brad Paisley, and Luke Bryan.
.@PriscillaBlock is a viral sensation - but a close listen proves this girl has major talent. Listen to #JustAboutOverYou on ACountry and discover more cool music from Priscilla #nowplaying #priscillablock
Click To Tweet
A seasoned performer, Priscilla evokes a response from every crowd. After playing the Whiskey Jam ("the best original music party in Nashville"), the founder, Ward Gunther, invited her back to play a second time, and Whiskey Jam shared: "What a sweet soul. Priscilla Block, you are awesome and I love how much fun you stir up in the room."
For more information about Priscilla Block, visit priscillablock.com  and follow her on Instagram, Facebook, Twitter, and TikTok to catch a ride in the passenger seat of her country music journey.
source:  PriscillaBlock.com