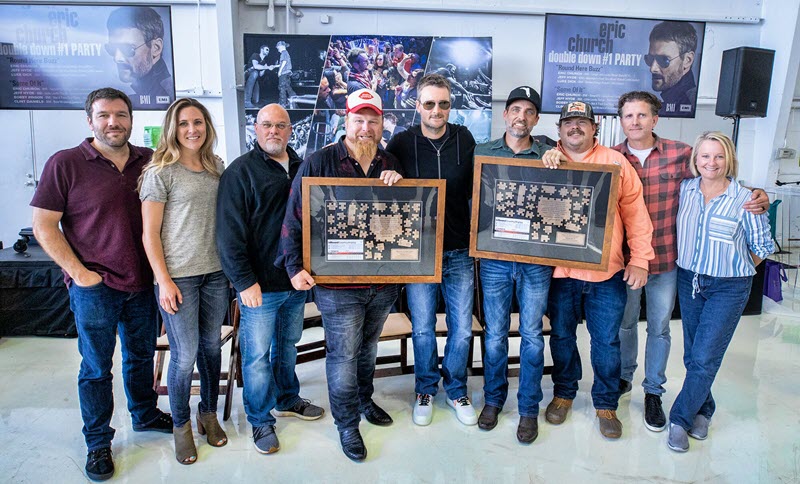 Eric Church celebrated his two most recent Number 1 songs, Round Here Buzz and Some Of It,  with his team of BMI co-writers at an aircraft hangar on the outskirts of Nashville.
Taking note from his critically-acclaimed and chart-topping Double Down Tour, Church chose to double down with the No. 1 celebration hosted by BMI, first recognizing his most recent chart-topper "Some Of It," the reflective track off Desperate Man written by Church and Daniels together with Jeff Hyde and Bobby Pinson, which was applauded by Esquire as "an open-hearted look at life's hard-won lessons [that] is as easy as easy-listening comes." The party also celebrated "Round Here Buzz," the Platinum-certified hit written by Church and Hyde along with Luke Dick which Rolling Stone praised as "prettily elegiac."
"You're the closest thing to Merle Haggard we will ever know," proclaimed "Some Of It" co-writer Clint Daniels, embodying the overwhelming sense of reverence in the room for current CMA Entertainer of the Year nominee Eric Church as he joined his team of BMI co-writers in celebration of his two most recent No. 1 singles.
"He is one of the best songwriters this town's ever seen and will ever see," declared SeaGayle Music's JD Groover as the celebratory toasts began, with Sony ATV's Josh Van Valkenburg speaking directly to Church to note, "As an entertainer, you continue to change the world. You're out there doing things that nobody else is even thinking about doing until you get out there and do it. And then as a songwriter, which is why we're here to celebrate you today, I think you're transcendent. I don't care when these songs were written, I think they'd be special. I think they'd matter."
Perhaps the most evident way to see how much they truly do matter was with the video compilation played at the celebration, featuring a who's who of Nashville artists thanking Church for inspiring them to chase a musical dream and for pushing them to be better every time they step on stage.
"The thing I've always admired about Eric is the truth in his calling… He's non-categorizable," explained Keith Urban, whose current single "We Were" was penned by Church. "Record to record, he's gonna infuse whatever is speaking to him at any given time into what he's doing, but his narrative as a writer and his voice is the through line for me. Everything I hear of his, that rock-steady Northern Star that connects all the different experiments that he has in record making is great songs… They should all go number one, Eric."
"That video was something I'm not ready to address yet," said Church, his voice faltering and emotion evident in his face as he returned to the stage. "That was one of the coolest things – no, that's about the coolest thing I've been a part of… My intention was always just to try to make great music, write great songs. And to see it matter is really something."
"But I will say this after seeing the video; I'm not done. I'm not retiring. I'm not dying… I look forward to kicking their asses every night on stage," he concluded with a smirk.
Upcoming Eric Chruch Double Down Tour Dates
Sept. 28                       San Francisco, Calif. || Chase Center
Oct. 4 & 5                   Grand Rapids, Mich. || Van Andel Arena
Oct. 11 & 12               Philadelphia, Pa. || Wells Fargo Center
Oct. 25                        Little Rock, Ark. || Verizon Arena
Oct. 26                        Birmingham, Ala. || Legacy Arena at the BJCC
Nov. 1                         Manchester, N.H. || SNHU Arena
Nov. 2                         Hartford, Conn. || XL Center
Nov. 15 & 16              Washington, D.C. || The Anthem
Nov. 22 & 23              Sacramento, Calif. || Golden 1 Center
.@EricChurch celebrated his two most recent #1 songs Some Of It and Round Here Buzz with his team of BMI co-writers. Watch the hit videos on ACountry
Click To Tweet
The three-time Country Music Association and six-time Academy of Country Music Award winner released his highly-anticipated album Desperate Man atop the Billboard Country Albums chart in October 2018. The album also debuted at No. 5 on the all-genre Billboard 200. Rolling Stone describes the album in their July 2018 cover story as "classic Church: expertly crafted and country-radio-friendly, while also pushing boundaries in a way that sounds natural and unforced" and American Songwriter notes in a cover story that it "sublimates the pain of a tumultuous year into his most adventuresome album yet." Church has returned to the road for his 2019 Double Down Tour, visiting nearly 30 markets for back-to-back nights of two unique shows sans-opening act to give fans 6+ hours of his iconic music in each city. The tour also included a massive stop at Nissan Stadium in Nashville, where Church broke the venue's concert attendance record with 56,521 fans and nearly tripled the attendance record he set at Bridgestone Arena in 2017.
For more information and to purchase tickets, visit www.ericchurch.com.
Source:  Essential Broadcast Media