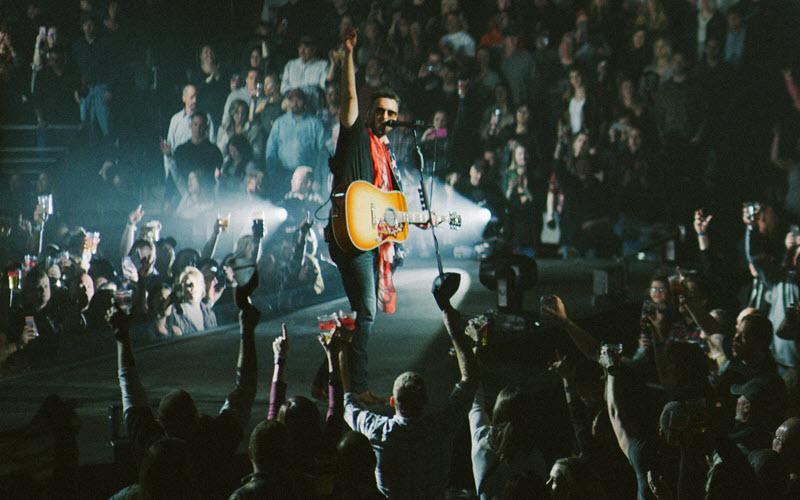 Eric Church kicked off the Double Down Tour with two sold out nights at the CHI Health Center in Omaha, Nebraska January 18-19, 2019,  covering a range of songs off all six of his studio albums – from his debut single How 'Bout You to his many No. 1 hits including  Drink In My Hand,  Springsteen  and  Record Year, as well as an extensive offering of tracks off his current album, Desperate Man. Across both shows, Church owned the stage for more than seven hours to play nearly 70 songs – only 13 of which appeared on both set lists, upholding his promise to make every show completely its own.
He paused often throughout the marathon sets to reflect on the Omaha crowd's enthusiasm – retrieving fans' American flags to passionately sling around his neck for the remainder of each show and even taking song requests from the audience – visibly awed by the energy of the Church Choir filling the arena from top to bottom and setting a promising standard for the 18 cities to follow.
Rolling Stone raved about  the vibe of the tour's opening night, one where loose, funky explorations were given just as much space as the singer's radio hits,  while the Omaha World-Herald praised Church for the  epic  two-night stand, remarking on how he  roamed the stage with his guitar slung across his back like some kind of country music warrior seeking someone to slay with his songs… and his fans followed along at every turn.  The Reader agreed, asserting of the second show that  it didn't matter if it was your first Eric Church concert or your second one of the week, Saturday night's Double Down show was an absolute joy and a victory lap for arguably the biggest artist in modern country music.
Church's Double Down Tour continues in the unique back-to-back night format for the next four months before coming to a crescendo with a one-night only supersized show at Nashville's Nissan Stadium, where he will more than double the attendance record set at Music City's Bridgestone Arena in 2017.
Fans can continue the celebration of Church's music at home with the upcoming colored vinyl releases of three classic albums. His Gold-certified debut Sinners Like Me will be re-issued on red colored vinyl in its second pressing. The album including Top 20 hits  How 'Bout Me,   Two Pink Lines  and  Guys Like Me  and available for pre-order now is set to be released on  January 25.
Church's 3x Platinum album Chief which landed atop both the Billboard 200 and Billboard Country Albums charts will follow on February 15, also being re-issued in red vinyl for its second pressing. The album featuring No. 1 hits  Drink In My Hand  and  Springsteen  as well as Top 10s  Like Jesus Does  and  Creepin'  is also available for pre-order now.
Rounding out the collection is the fourth pressing of his Platinum-certified sophomore album, Carolina, featuring Top 10 songs  Love Your Love the Most  and  Hell on the Heart.  The album celebrating its tenth anniversary will be released on yellow vinyl and is also available for pre-order now in advance of its April 5 release date.
Eric Church Jan 18 Omaha Setlist
Set 1:
1.  Knives of New Orleans
2.  Desperate Man
3.  How 'Bout You
4.   Mr. Misunderstood
5.   Cold One
6.  Over When It's Over
7.   Can't Take It With You
8.  Drink in My Hand
9.  Carolina
10.  Higher Wire
11.  Before She Does
12.  Talladega
13.  Hangin' Around
14.  The Outsiders
Set 2:
15.  The Snake
16.  That's Damn Rock & Roll
17.  Record Year
18.  Monsters
19.  Pledge Allegiance to the Hag
20.  Jack Daniel's
21.  Mixed Drinks About Feelings
22.  Runaway
23.  I Ain't Living Long Like This
24.  Longer Gone
25.  Smoke a Little Smoke
26.  Heart Like a Wheel
27.  Some of It
28.  Keep On
29.  Give Me Back My Hometown
30.  These Boots
31.  Springsteen
32.  Just Kissed My Baby
33.  Holdin' My Own
Eric Church Jan 19  Omaha Setlist
Set 1:
1.  Drowning Man
2.  Country Music Jesus
3.  Hangin' Round
4.   Smoke a Little Smoke
5.   Guys Like Me
6.  Round Here Buzz
7.   Creepin'
8.  Hippie Radio
9.  Chattanooga Lucy
10.  Without You Here
11.  Lotta Boot Left To Fill
12.  Homeboy
13.  Drink In My Hand
14.  Mistress Named Music
Set 2:
15.  Solid
16.  Give Me Back My Hometown
17.  Record Year
18.  Desperate Man
19.  Kill a World
20.  Pledge Allegiance to the Hag
21.  Some Of It
22.  Jack Daniels
23.  Livin' Part of Life
24.  I'm Gettin' Stoned
25.  Atlantic City
26.  Get Out of Denver
27.  What I Almost Was
28.  Higher Wire
29.  Like A Wrecking Ball
30.  Sinners Like Me
31.  These Boots
32.  Springsteen
33.  Chevy Van
34.  Those I've Loved
35.  Hodin' My Own
36.  The Load Out/Stay
For more information, visit www.ericchurch.com.
Source:  Essential Broadcast Media