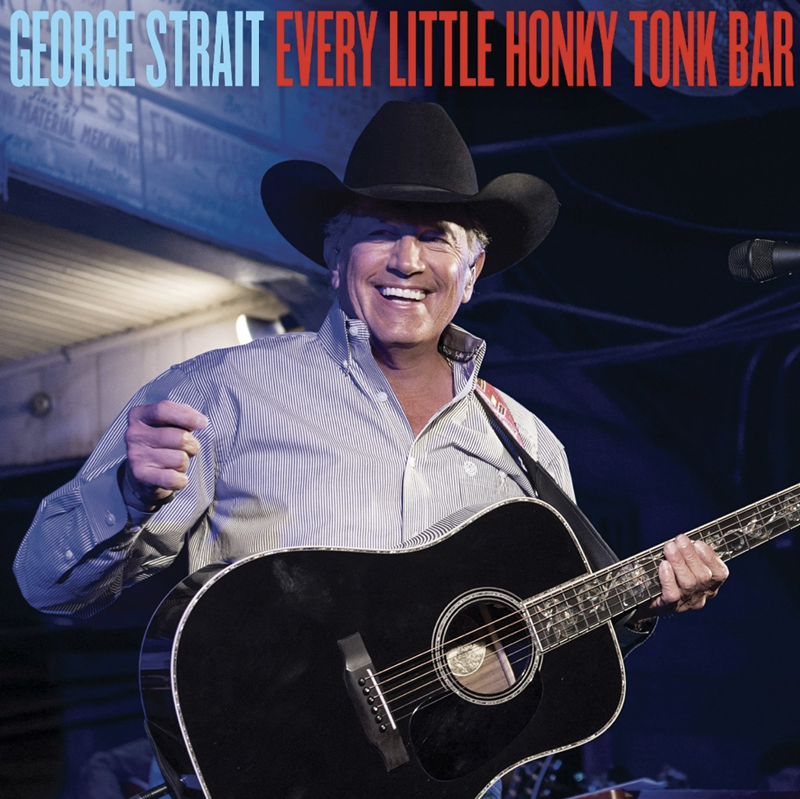 George Strait's new single, Every Little Honky Tonk Bar, was released February 11, 2019.  Written by George Strait, Bubba Strait and Dean Dillon, the new song follows on the heels of recent singles Codigo and God and Country Music. George Strait's new album Honky Tonk Time Machine will be released March 29, 2019.
Listen to Every Little Honky Tonk Bar
George Strait Honky Tonk Time Machine track listing:
01. Every Little Honky Tonk Bar
02. Two More Wishes
03. Some Nights
04. God and Country Music (with Harvey Strait)
05. Blue Water
06. Sometimes Love
07. Código
08. Old Violin
09. Take Me Away
10. The Weight of the Badge
11. Honky Tonk Time Machine
12. What Goes Up
13. Sing One with Willie (featuring Willie Nelson)
With an unmatched 60 singles hitting the top of the charts – more than any other artist in any genre – during the span of his 30-year career, Strait is the undeniable "King of Country Music." He has collected 33 Platinum or multi-Platinum-selling albums, more than any country artist and ranking third across all genres behind only The Beatles and Elvis Presley. Strait is the only act in history to have a Top 10 hit every year for over three decades and has sold nearly 70 million albums and earned more than 60 major entertainment industry awards, including induction in the Country Music Hall of Fame in 2006.
This weekend, the Country Music Hall of Famer will play his 21st and 22nd sold-out shows at T-Mobile Arena in Las Vegas. The "Strait to Vegas" series began with six shows in 2016 and extended with 10 more in 2017. In 2018, Strait headlined Bayou Country Superfest to a sold-out Mercedes-Benz Superdome crowd in New Orleans, Louisiana, two nights in Tulsa, Oklahoma and one night in Austin, Texas. This year, fans can catch Strait at Mercedes-Benz Stadium in Atlanta on March 30, Ohio Stadium in Columbus, Ohio on June 8, two additional engagements of "Strait to Vegas" at T-Mobile Arena in Las Vegas on August 23- 24 and Dickies Arena in Fort Worth, Texas on November 22-23.
For more information, visit www.GeorgeStrait.com.
source:  Essential Broadcast Media