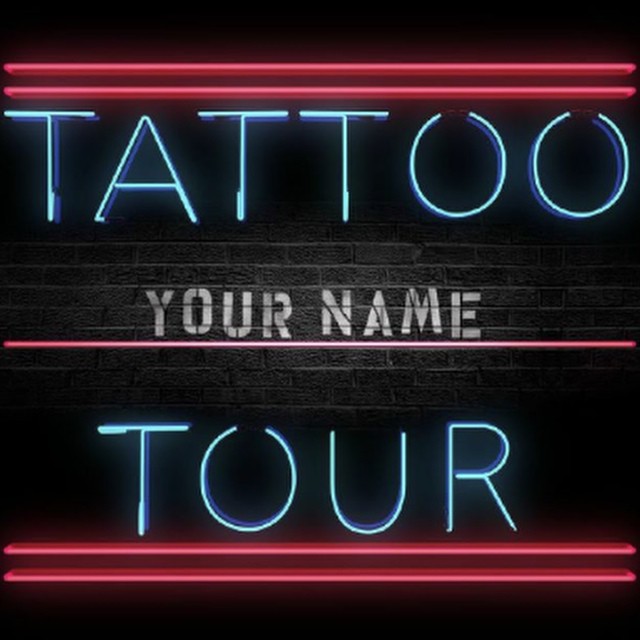 Hunter Hayes announced  the Tattoo (Your Name) Tour following a performance on the Today Show's Toyota® Concert Series this morning (August 22).  Kicking off kick off October at the Bryce Jordan Center in University Park, PA, Hayes will be joined by special guests Dan + Shay and The Railers.
During the TODAY Show performance, Hayes entertained the massive crowd gathered in the plaza with his current Top 30-and-climbing single "Tattoo" as well as the No. 1 smash hit "I Want Crazy" and moving fan favorite, "Invisible." The multi-talented singer-songwriter surprised fans by sporting a fresh henna tattoo sleeve with emblems from each city on the Tattoo (Your Name) Tour, and three henna artists circulated the crowd inking fans with the tour logo. On television, viewers across the nation also got to see the first-ever localized commercial spots for a concert tour that are synced with the popular music identification service,Shazam.
"This tour is definitely going to be different than anything we've ever done before…and maybe anyone has ever done. It's a lot of firsts not only for us, but even for the fans who have seen our show before," said Hayes. "Every tour is all about the fans, but this one proves it. Not only are they going to be part of the show, they are the show…you'll see what I mean!"
In anticipation of the tour announcement, Hayes met up with Dan + Shay and The Railers at Safe House Tattoo Studio in Nashville, Tenn.  Watch the video:
Hunter Hayes Tattoo (Your Name) Tour Dates:
Oct. 30, 2014 Bryce Jordan Center | University Park, PA
Oct. 31, 2014 Times Union Center | Albany, NY
Nov. 1, 2014 Thomas M. Ryan Center | Providence, RI.
Nov. 13, 2014 BMO Harris Bradley Center | Milwaukee, WI.
Nov. 14, 2014 iWireless Center | Moline, IL.
Nov. 15, 2014 Sprint Center | Kansas City, MO
Nov. 20, 2014 Chaifetz Arena | St. Louis, MO
Nov. 21, 2014 Sears Centre Arena | Chicago, IL
Nov. 22, 2014 The Palace of Auburn Hills | Detroit, MI
Dec. 4, 2014 Lakefront Arena | New Orleans, LA
Dec. 5, 2014 Jacksonville Veterans Memorial Arena | Jacksonville FL
Dec. 6, 2014 Arena at Gwinnett Center | Atlanta, GA
Dec. 11, 2014 Wolstein Center | Cleveland, OH
Dec. 12, 2014 Rogers K-Rock Centre | Kingston, ONT Canada
Dec. 13, 2014 Budweiser Gardens | London, ONT Canada
Hayes continues to perform at headlining dates and festivals throughout the country in support of his chart-topping second album for Atlantic Records, Storyline, which he co-produced with Dann Huff. For more information and the latest updates, visit www.HunterHayes.com or follow on Twitter and Facebook @HunterHayes.
About Dan + Shay
Critically acclaimed duo Dan + Shay (Dan Smyers and Shay Mooney) hit No. 1 on Billboard 's Country Albums Chart with their first album Where It All Began released earlier this year. As the only new duo in Soundscan recorded history to debut at the top of the chart, the pair are also celebrating the highestBillboard charting debut album of 2014. On the road in support of their album, the new video for their current single and fan favorite, "Show You Off" follows up their debut single, the RIAA gold certified hit "19 You + Me." Already selling nearly 900,000 digital tracks, nominated for a CMT Music Video Award as well as an ACM Award this year, Dan + Shay are currently touring with Blake Shelton, continuing on the road this fall on their own Where It All Began Tour before joining Hayes on his Tattoo (Your Name) Tour. They had previously played on his We're Not Invisible Tour early this spring and had performed on three shows on "Hunter Hayes' 24 Hour Road Race to End Child Hunger." For more information please visit DanAndShay.com. Follow @DanandShay.
About The Railers
Warner Bros. exciting new band, The Railers, will release their debut single "Kinda Dig The Feeling" to Country radio this Fall. No strangers to the road, this group of classically trained musicians bring personal lyrics, air tight harmonies and earthy instrumentation using mandolin, violin, concertina, and acoustic guitar to create an undeniable blend and style which is effortlessly captured in their live show. The band consists of Jonathan (lead vocals/guitar), Jordan (mandolin/fiddle/vocals), Cassandra (vocals/concertina/percussion), and Tyler (drums).  Their story began in 2010 when they decided to embark on their journey together as The Railers. Thrilled to head out on the Hunter Hayes' Tattoo (Your Name) Tour this Fall, the band has previously performed with Hayes on three stops of his "24 Hour Road Race To End Child Hunger" in May. This run of shows will follow the band's first radio tour, beginning this month. For more information on The Railers, please visit TheRailers.com /https://www.facebook.com/TheRailers / Follow: @therailers.