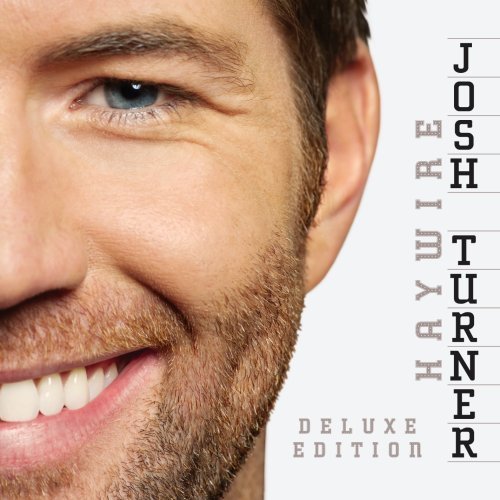 Josh Turner's new album, Haywire, hits stores February 9, 2010. Featuring the hit single, "Why Don't We Just Dance," the album is being released as a regular 11-song version and as in a deluxe edition that will include 4 bonus songs and access to exclusive video downloads from Josh.
Don't miss your chance to go "Haywire" with Josh Turner fans at Josh Turner Haywire Weekends at participating nightclubs across the country – with your chance to win Josh Turner prize packages and Haywire CD's, plus your chance to win a nationwide grand prize – an autographed Josh Turner guitar.
February 4 – 6 Haywire Weekend
Seattle, WA
Little Red Hen
7115 Woodlawn Ave NE
Seattle, WA 98115
(206) 522-1168
www.littleredhen.com
Minneapolis / St. Paul, MN
Nacho Mama's
312 Main St S # 100
Stillwater, MN 55082
(651) 439-9544
www.stillwaternachomamas.com
Angel Fire, NM
The Lazy Lizzard at Angel Fire Resort
10 Miller Lane
Angel Fire, NM 87710
www.angelfireresort.com
Rush City, MN
Rush City Eagles Club
108 West 5th St.
Rush City, MN 55069.
(320) 358-3854
*****
February 11 – 13 Haywire Weekend
Spring Lake Park, MN
Povlitzki's on 65
8407 Plaza Boulevard Northeast
Spring Lake Park, MN 55432
(763) 784-7110
www.povlitzksis.com
Tampa, FL
The Round-Up
13918 W. Hillsborough Avenue
Tampa, FL 33635
(813) 855-1464
www.theroundup.com
Kansas City, MO
Whiskey Tango
401 SE Outer Belt Road
Grain Valley, MO 64029
(816) 847-5650
www.whiskeytangokc.com
Tempe, AZ
Graham Central Station
7850 South Priest Drive
Tempe, AZ 85284
(480) 496-0799
www.grahamcentralstation.com
Los Angeles, CA
Oil Can Harry's
11502 Ventura Boulevard
Studio City, CA 91604
(818) 760-9749
www.oilcanharrysla.com
Houston, TX
Tumbleweed Texas
13101 Kuykendahl Rd
Houston, TX 77090
(281) 872-7829
www.tumbleweedtx.com
Warrensburg, MO
Cadillac Ranch
822 South Maguire Street
Warrensburg, MO 64093
(660) 429-5200
*****
February 27 Haywire Night
Hagerstown, MD
Cancun Cantina West
901 Dual Highway
Hagerstown, MD 21740
(301) 797-4422
www.cancuncantinawest.com
*****
February 26 Haywire Weekend
Plainville, CT
Celebrations Unlimited
161 Woodford Ave
Plainville, CT 06062
(860) 793-0642
celebrationsdancehall.com
*****
March 5 Haywire Weekend
Chicago, IL
Joes' Bar
940 West Weed Street
Chicago, IL 60642
(312) 337-3486
www.joesbar.com
The deluxe version of Haywire includes live concert audio for 'Long Black Train' and 'Your Man' along with two previously unreleased songs. Additionally included in the deluxe version is the video for "Why Don't We Just Dance" and interviews and behind the scenes footage.
Josh Turner Haywire Track Listing:
1. "Why Don't We Just Dance"
2. "I Wouldn't Be a Man"
3. "Haywire"
4. "Your Smile"
5. "Lovin' You on My Mind"
6. "As Fast As I Could"
7. "I'll Be There"
8. "All Over Me"
9. "Eye Candy"
10. "Friday Paycheck"
11. "The Answer"
12. "Let's Find a Church"
13. "This Kind of Love"
14. "Long Black Train (live)"
15. "Your Man (live)"