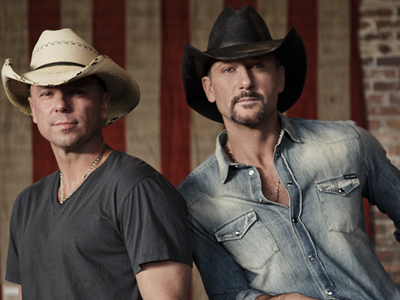 Are there any Tim McGraw or Kenny Chesney fans out there?  Well, we've got news for you!  The Brothers of the Sun tour is coming to Nashville at  LP Field on June 23, 2012.
What are you waiting for?  Buy Kenny Chesney Tim McGraw Nashville tickets and enjoy a great day of country music in Music City.
"Tim and I have been great friends since we first toured together, and I can't wait to get back on the road with him," Chesney said. "He's one of my closest friends in music and in life, and I know this tour is going to be something special." 



"Our friendship was forged on the road, so it's going to be a blast heading out with Kenny again," said McGraw. "We'll be having as much fun on stage as the fans will be having in the audience." 



The Brothers of the Sun tour also also feature special guests Grace Potter & The Nocturnals and Jake Owen. 
LP Field is located at One Titans Way, Nashville, TN  37219
Directions To LP Field
Centrally located on the West Bank of the Cumberland River, just across from the heart of downtown Nashville. LP Field is easily accessible from I-65 near the Woodland St. Bridge and Shelby Avenue.
LP Field Parking
Concert goers can find public parking lots and garages downtown. You can also call  615-862-5950 to seek the assistance of Nashville Public Transportaion MTA department.
Buy Kenny Chesney Tim McGraw LP Field  tickets