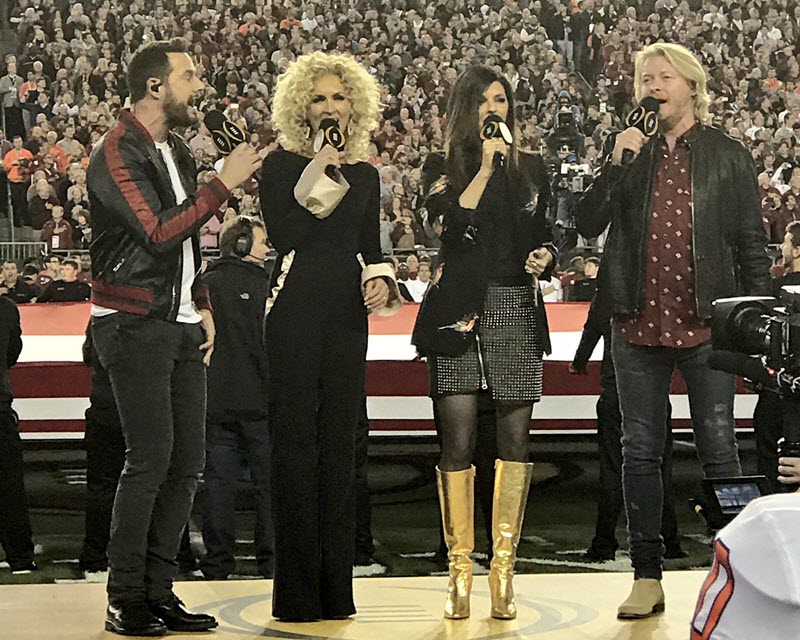 2017 is off to a great start as Little Big Town provided a great start to the National Championship Game, the Mavericks have a new album due in March, and the Country Music Hall of Fame and Museum will feature a Shania Twain exhibit this summer:
Little Big Town Performs National Anthem at NCAA National Championship Game
Little Big Town performed the National Anthem before kickoff of the NCAA National Championship football game between Clemson and Alabama tonight. Using their notable harmonies to pay homage to the United States of America and perform "The Star-Spangled Banner," the quartet provided the true beginning moment of the anticipated championship game between the No. 1 and No. 2 ranked teams in college football.  Watch the chart-topping superstars' performance of the National Anthem at  NashvilleGab.
The Mavericks Announce 'Brand New Day', Coming This Spring
The Mavericks will release a new album, Brand New Day, on March 31.  Brand New Day will be made up of 10 tracks that demonstrate the Mavericks' musical range. The project includes a Tejano / bluegrass-style song called "Rolling Along," a 1960s-influenced song tune called "Easy as It Seems," the accordion-heavy "I Will Be Yours" and the emotional "Goodnight Waltz," among others.
"Brand New Day expresses how we feel about the journey we're on, as a band, as a family, as a nation, as a world," Mavericks member Raul Malo explains to Rolling Stone. "Now more than ever, we're going to need to be more compassionate, more understanding, more loving than ever before."  Read more at The Boot
Shania Twain Exhibit Set for Country Music Hall of Fame and Museum
Shania Twain will be the subject of a special exhibit at Nashville's Country Music Hall of Fame and Museum opening June 26th.  "It's an honor to be a part of the Country Music Hall of Fame exhibitions for 2017. Being able to re-visit favorite costumes, photographs and memories from my career has been a special feeling, especially as this year will see a new stage for me with a brand new album!" Twain said in a statement. "I'm very excited to have these important creative moments on display."  Read more at Rolling Stone
Country music is off to a great start in 2017.  Get ready and enjoy the ride!