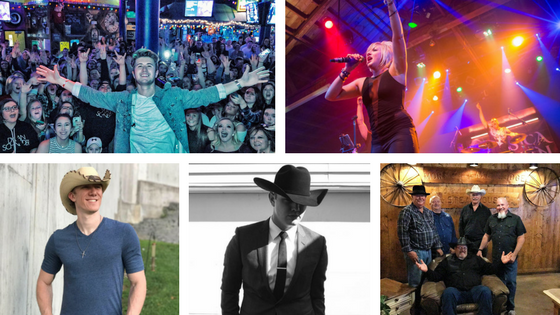 Labor Day weekend has come and gone and that means that we're hot off the heels of a summer for the books full of joy, laughter, and of course, good music. There may be silly rules like "you can't wear white" after Labor Day, but there are no rules when it comes to finding incredible music on all corners of the internet. From raucous girl power to quirky nostalgic, you're in for a treat with some of our favorite finds this past month. Let's round 'em up!
PJ North (@officialpjnorth)
Location: Nashville, TN
On his Twitter account, PJ North said he had one wish for his birthday back in July and it was for his audience to check out his latest single, "There's Always Vegas." At first listen, the intro has a brightness reminiscent of "Sweet Home Alabama" that is also accompanied by a perfectly swelling organ that passes the baton to the first verse. The musicianship sets the stage, but the lyrics are the stars of the show. North addresses a future wife about the stress of planning a wedding and how the hoopla might not be what you envisioned. True love is something that exists between two people with no peanut gallery, and North does a whimsical job of describing leaving all those worries behind and eloping in Vegas. And boy, does he make a great point—see what we mean by checking out his lyric video above.
Jessica Hannan (@jessicahannan1)
Location: Nashville, TN
In a world of flower crowns and sunkissed hair, country music needs more badass bitches (pardon our language) who aren't afraid to speak their minds about real-ass, normal situations that happen all too often. The video starts with Hannan waiting for a date at the bar which results in being stood up. Rather than cry and wallow, she texts her friend that they should have a girls night and to meet in 30 minutes. The guitars are slamming, the drums are pumping, and Hannan's hearty vocals soar like the rock star she is. We want to shake our asses on the dance floor and party with Jessica and her crew after one short listen.
Eddie Joe Clark Band (@TEJCB)
Location: Phoenix, AZ
There are two things that drew us to The Eddie Joe Clark Band. 1.) Multiple people wrote us saying we should check 'em out. 2.) The describe themselves as "Real outlaw country music—not just rock 'n' roll with a twang." We feel like several bands use a similar descriptor, so we always like to investigate to see if it's a lofty description or real deal holyfield . Spoiler alert: they ain't messin' around and they wear the hat well! We can't get their tune "Barley Pop" stuck out of our heads in the best of ways. It's so nostalgic—it takes you back to the '50s and '60s with its twangy steel guitars, claymation clips, old school advertisements, and catchy chorus you can sing after a long day's work. It looks like they're slated to have an active fall through the southwest, so catch 'em if you can!
Dylan Schneider (@dylanschneider)
Location: Terre Haute, IN
We always love stumbling upon a new artist right when they've released a new song or album and are lucky to have this opportunity with Dylan Schneider. We love the dreamy instrumental soundscape "How Does It Sound" brings to the table that allows Schneider's deep, velvety voice to float on top of it. So many country songs paint a picture of nostalgia by telling the audience exactly what those past moments look like. We love Schneider's approach to asking his lover (be it past, present or future) how does it sound when those memories are evoked? This one song shows us that he is an artist that comes from a genuine place and we are excited to dig into his repertoire even more and hopefully catch him on his upcoming tour.
Grayson Rogers (@ImGraysonRogers)
Location: Nashville, TN
Another fan-recommendation we're kicking our butts about because we didn't come across him sooner. We're suckers for bubbly clavs, so "Floatin'" instantly sucked us in. What a perfect ode to a damn near perfect summer! What's better than floatin' down the water with good friends and a beer in hand. Even if things don't go as planned, you've got your crew and you're making solid memories to laugh over for years to come over more cold ones. It looks like Rogers will have a busy late September in Florida, so we hope our Florida family can make it out and decompress after Irma.
YEE HAW!
Join us in our quest to discover new music on our social channels. We have followers who pimp their friends' bands, bands sharing their own tracks, and we stumble upon some good stuff on our own.  To share your music or your latest favorites, make sure to tweet at us @acountry or drop us a line on Facebook.