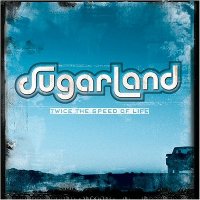 With so many Nashville newcomers vying for airtime on country radio these days, it's almost time to call in an air-traffic controller. Breaking from the pack and landing just fine is Sugarland, the Atlanta-based trio of the singers-songwriters Jennifer Nettles, Kristen Hall and Kristian Bush. Sugarland performs a sold out show tonight (April 29) at Joe's in Chicago. Sugarlandís debut CD, Twice The Speed of Life, hit No. 10 on the Billboard country albums chart and recently yielded the No. 2 hit single "Baby Girl."
As featured in the April 29 edition of the Chicago Tribune, Sugarland is enjoying sweet success as the combinging of Nettles, Hall, and Bush is a marriage made in country heaven.
"It's still surreal," says Nettles, calling from the group's home base of Decatur, Ga. "For the first single to go that far and to go to No. 2 is really unbelievable, and fits into what we hoped for."
What the three hoped for — and actively pursued — when they formed in Atlanta in late 2001 was taking their music as far and high as it could go in the commercial realm. The breakthrough success of Sugarland is something of a case study in the members' combined professional savvy. The act may be new, but the three singers-songwriters who form Sugarland are no novices to the music business.
Contemporary country has seen a growing share of successful trios — usually augmented by supporting musicians — with the massive success of the Dixie Chicks and Rascal Flatts, as well as the likes of Trick Pony and SheDaisy.
"I really think that when we were signed, [being a trio] was an asset as opposed to a liability for us," Nettles says. "With Mercury, they were looking at their roster and trying to make it as diverse as possible, and they didn't have a trio. So this was something that felt different and fresh. At the time it felt much more like an asset."
As for Bush, he says that if someone had told him back in the mid-'90s that he'd now be in a country trio with a No. 2 hit, he wouldn't have believed it. "That would have freaked me out," Bush says, laughing. "The punk in me would have said, sit down."
source: Chicago Tribune
: : : : :
listen to Sugarland free samples / download from iTunes