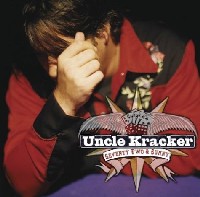 Following a chart-topping collaboration with Kenny Chesney, multi-genre star Uncle Kracker continues to branch out musically with the release of his new single, 'Writing It Down,' to country radio. The engaging, piano-tinged ballad is off to an impressive start as one of the most added country records one week ahead of schedule.
Noted country music historian and Music Row Magazine contributor Robert Oermann gives both Uncle Kracker and 'Writing It Down' high marks.
"Approach this with an open mind and you'll find a single with enormous heart,' Oermann wrote in a recent Music Row single review. 'His performance is strikingly melodic and sincere, and the country-remix production swells with emotion. Kracker really does love his country, and we should love him back as long as he's making music this good." For Uncle Kracker, whose most recent CD Seventy Two and Sunny also features the Top 40 hit 'Rescue,' the progression to country-flavored music is something he has come by naturally.
'I was exposed to a variety of rock, soul and country music growing up as a kid in Detroit,' Uncle Kracker says. 'One minute I'd be listening to my dad's old Soul and Doo Wop records, and the next minute hear Hank Williams, Merle Haggard and George Jones come through the speakers on my radio. It was a powerful experience for me. Inevitably, fusing elements of country into my music seemed like a natural progression. I'm not going country'I'm going home.'
Uncle Kracker is currently on tour to support the single and CD release. For a list of tour dates and for additional information, visit http://www.unclekracker.com/
: : : : :
listen to Uncle Kracker free samples / download from iTunes