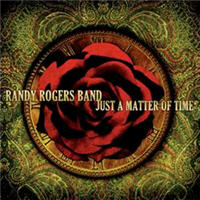 Just A Matter of Time, the new album from Randy Rogers Band, hits stores today (September 12) with USA Today giving the project 3 1/2 stars.
"Texas country-rocker Rogers finally gets his major-label shot, without having to compromise a note. Taking his musical cues from Steve Earle, producer Radney Foster and, at times you'd swear, the Georgia Satellites, Rogers boasts loads of grit, swagger and heart. And when he lets loose, as he does on the ferocious You Could've Left Me and the chorus of the duskily romantic Kiss Me in the Dark, there's nobody on the country charts that does the Southern-rock thing better."
— Brian Mansfield, USA Today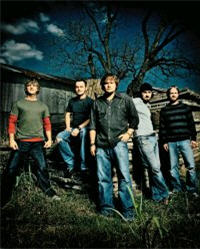 After months of meetings with every label in Nashville, the Randy Rogers Band signed with Mercury Nashville and the sealed the deal at the joint where it all started: Cheatham Street Warehouse in San Marcos, TX. "We were really conscious about not letting the fact that this was going to be our major-label debut mess with our heads" says Rogers, "Because to us, this record is really just the next step. For many folks who don't know about the movement that's going on down here, it'll be their first look at us. But we approached this like we were making our fifth record, not our first. And there was a lot of trust from the label in terms of, 'You guys go out there and make a record and turn it in, and we'll leave you alone and let you do your thing.'"
In exchange for that creative freedom (and the luxury of a considerably bigger budget than they'd ever had before), the band and producer Radney Foster delivered on their end of the bargain. Just A Matter of Time plays like a rock 'n' roll album with a country heart as big as Texas, or a straight-up country record played by a killer rock 'n' roll band. But in fine country tradition, it's the uniform quality of the songs that really steals the show. All but two were co-written by Rogers (four with Foster himself, a potent combo that yielded many of Rollercoaster's brightest moments, including the single and "Somebody Take Me Home," later covered by Kenny Chesney for his The Road and the Radio album); the other two were contributed by bassist Richardson (a former front man in his own right) and Foster and George Ducas, who first struck gold co-writing Foster's first big solo hit, "Just Call Me Lonesome." Here, they contribute the irresistible "Kiss Me in the Dark," which was pretty much destined to be the lead single from the very first time the band heard it. "If we were going to cut an outside song, it had to be such a great song that you couldn't pass on it," says Rogers, smiling. "It would have to be a single."
"We just wanted this record to be an honest representation of where we were at when we signed our first major-label deal," says Rogers. "I think it's the best thing we've ever done…"
Just A Matter of Time is in stores now.
source: USA Today / Mercury Records
: : : : :
Randy Rogers Band official website
listen to Randy Rogers Band free samples / download from iTunes