Vince Gill's These Days is a 4-CD collection spotlightighting a different style of music, ranging from country to bluegrass to jazz-inflected pop to straight-out rock 'n' roll. Don't miss Vince Gill These Days Night at participating nightclubs across the country.
Each nightclub will be playing songs from Vince Gill's new album throughout the evening, including the hit The Reason Why, and pausing periodically to give away Vince Gill prize packs.
Vince Gill prize packs include autographed These Days CD's, posters, stickers, and calendar mouse pads. Fans are also eligible to win a Nationwide Grand Prize – an autographed Vince Gill guitar. October 19-21 – Portland, OR
Duke's Bar & Grill
14601 SE Division Street
Portland, OR 97236
(503)760-1400
www.myspace.com/dukesbar
October 19-21 – San Jose, CA
Club Rodeo
1001 South 1st Street
San Jose, CA 95110
(408)297-7272
www.therodeoclub.com
October 19-21 – Cranston, RI
Mardi Gras
1500 Oaklawn Avenue
Cranston, RI 02920
(401)463-30802
www.mardisgrasmulticlub.com
October 20-22 – Madison, WI
The Dry Bean
5264 Verona Road
Madison, WI 53711
(608)274-3324
www.thedrybean.com
October 20-22 – Albuquerque, NM
Graham Central Station
4770 Montgomery Blvd. B-1
Albuquerque, NM 87109
(505)883-3041
www.grahamcentralstationalbuquerque.com
October 24 – Seattle, WA
Cowgirls, Inc. / KKWF
421 1st Ave
Seattle, WA 98104
(206)577-8618
www.cowgirlsinc.com
www.seattlewolf.com
October 28-29 – Nashville, TN
Silverado's
1204 Murfreesboro Pike
Nashville, TN 37217
(615)361-9922
www.silveradosdancehall.com
October 28-29 – Fremont, CA
The Saddle Rack
42011 Boscell Road
Fremont, CA 94538
(510)979-0477
www.thesaddlerack.com
October 28-29 – Kansas City, MO
Beaumont Club
4050 Pennsylvania Ave (in Westport)
Kansas City, MO
(816)931-2224
www.kcclubs.com
October 28-29 – Kansas City, MO
Whiskey Tango
401 SE Outer Belt Road
Grain Valley, MO 64029
(816)847-5650
www.whiskeytangokc.com
October 28-29 – Wichita Falls, TX
Outskirts Nightclub
5029 Jacksboro Highway
Wichita Falls, TX 76302
(940)763-2582
www.outskirtsnightclub.com
October 28-29 – Lexington, KY
Cadillac Ranch
2320 Palumbo Drive Suite 150
Lexington, KY 40509
(859)335-8800
www.cadillacranchky.com
October 28-29 – Southington, CT
Cadillac Ranch Restaurant
242 Winding Ridge
Southington, CT 06489
(860)620-0832
www.caddyranch.com
October 28-29 – Pittsburgh, PA
Ghost Riders
1805 N Main Street
Butler, PA 16001
(724)283-4401
http://ghostriders.freehomepage.com
October 28-29 – Spring Lake Park, MN
Povlitzki's on 65
8407 Plaza Blvd NE
Spring Lake Park, MN 55432
(763)784-7110
www.povlitzkis.com
November 3-5 – Quakertown, PA
Montana West
1030 North West End Blvd
Quakertown, PA 18951
(215)529-6070
www.clubmontanawest.com
November 10-12 – Fort Worth, TX
Electric Cowboy
8740 Camp Bowie West
Fort Worth, Texas 76116
(817)560-2813
www.electriccowboyftworth.com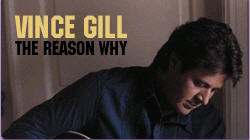 Seventeen-time Grammy award-winning artist Vince Gill has sold more than 22 million albums. Among his many musical honors include his induction into the Grand Ole Opry in 1991 and winning five Academy of Country Music Awards. In addition to his music and performing, Gill is also dedicated to giving back to those in need. Gill dedicates much of his time to programs for children's recreation and education, the terminally ill, the homeless and hungry, cultural and environmental preservation, and the humane treatment of animals. In 1993, Gill established "The Vinny," an annual pro/celebrity golf tournament, to raise money for the Junior Golf program. Gill also sponsors and participates in dozens of organized charities, and nearly all of his concerts have a local charity component as well. Gill was presented the 2006 Academy of Country Music/The Home Depot Humanitarian Award on May 23, 2006.
: : : : :
Buy Vince Gill now from Amazon