Congratulations to Vince Gill, winner of the Grammy for Male Country Vocal Performance for "The Reason Why" at The 49th Annual Grammy Awards, broadcast live from the Staples Center in Los Angeles on CBS. The trophy marks the eighteenth Grammy of Gill's career.
"The Reason Why" is featured on These Days, a 4-CD collection of 43 new songs. Each CD in the set spotlights a different style of music, ranging from country to bluegrass to jazz-inflected pop to straight-out rock 'n' roll. Other guest artists on the album include Sheryl Crow, Bonnie Raitt, Diana Krall, Rodney Crowell, Phil Everly, the Del McCoury Band, Emmylou Harris, John Anderson, Lee Ann Womack, Jenny Gill, Amy Grant, LeAnn Rimes, Gretchen Wilson, Guy Clark, Trisha Yearwood, Bekka Bramlett, Michael McDonald, and steel-guitar master Buddy Emmons.
Vince Gill can now boast a Grammy for every hole on the golf course. With this latest win, Gill has claimed more Grammys than any other male country artist in history. "I don't think that I've ever missed a Grammy show – I was torn about that. I'm regretful that I couldn't be there to receive the Grammy but thankful that I got to spend one more night at home with my family."
The popularity of These Days, which quickly soared to platinum status, has kept Gill busy, both on the road and in the media spotlight. Originally, the These Days Tour was supposed to wrap up just before Christmas. But demand has now extended it further into 2007.
Gill's next major TV appearance will be on Rachael Ray Friday, Feb. 16. He has also been interviewed by poet and fellow Grammy winner Dr. Maya Angelou for XM Satellite Radio's Oprah & Friends (Channel 156). The program will air in March at a date and time yet to be determined.
Gill's appearance on XM's "Artist Confidential" show will also be broadcast in March. The dates, times and channels are Monday, March 12, noon, US Country (Channel 17); Wednesday, March 14, 8 a. m., America (Channel 10); Friday, March 16, 9 p. m., US Country; Saturday, March 17, 3 p.m., US Country; Sunday, March 18, 3 p. m., Highway 16 (Channel 16). All times are Eastern. (All dates are subject to change.)
Gill and his 15-piece road band resume his These Days Tour Feb. 13 at the Assembly Hall in Champaign, IL.
These Days is in stores now.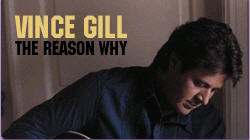 Eighteen-time Grammy award-winning artist Vince Gill has sold more than 22 million albums. Among his many musical honors include his induction into the Grand Ole Opry in 1991 and winning five Academy of Country Music Awards. In addition to his music and performing, Gill is also dedicated to giving back to those in need. Gill dedicates much of his time to programs for children's recreation and education, the terminally ill, the homeless and hungry, cultural and environmental preservation, and the humane treatment of animals. In 1993, Gill established "The Vinny," an annual pro/celebrity golf tournament, to raise money for the Junior Golf program. Gill also sponsors and participates in dozens of organized charities, and nearly all of his concerts have a local charity component as well. Gill was presented the 2006 Academy of Country Music/The Home Depot Humanitarian Award on May 23, 2006.
source: MCA Records/AAPR/Morris Public Relations
updated February 12, 2007
: : : : :
Buy Vince Gill now from Amazon