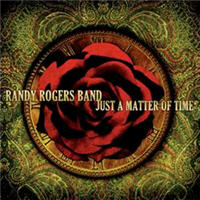 Randy Rogers Band's Just a Matter of Time may be just the ticket for a great new year – the group is featured in Country Weekly's "Who's Hot for 2007." Check out Randy Rogers Band on tour and see for yourself why they just may be your new favorite artist. Down in Texas, folks have known Rogers had the goods that would take him the distance long before he even cracked the regional radio charts.
"We were really conscious about not letting the fact that this was going to be our major-label debut mess with our heads" says Rogers, "Because to us, this record is really just the next step. For many folks who don't know about the movement that's going on down here, it'll be their first look at us. But we approached this like we were making our fifth record, not our first. And there was a lot of trust from the label in terms of, 'You guys go out there and make a record and turn it in, and we'll leave you alone and let you do your thing.'"
Just a Matter of Time is in stores now.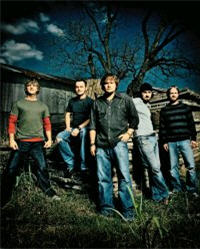 Randy Rogers Band Tour Dates
Dec 20 ….. San Antonio, TX ….. Cowboy's Far West
Dec 21 ….. Spring, TX ….. Big Texas
Dec 22 ….. Fort Worth, TX ….. Billy Bob's Texas
Dec 31 ….. Stephenville, TX ….. City Limits
Jan 10 ….. Fort Collins, CO ….. Aggie Theatre
Jan 12 ….. Durango, CO ….. The Wild Horse Saloon
Jan 13 ….. Albuerque, NM ….. Cowboy's
Jan 14 ….. Hays, KS ….. Ellis Country Fairgrounds
Jan 16 ….. Lawrence, KS ….. Granada Theatre
Jan 17 ….. Manhattan, KS ….. Longhorns
Jan 18 ….. Springfield, MO ….. Snorty Horse Saloon
Jan 19 ….. Columbia, MO ….. The Blue Note
Jan 20 ….. Oklahoma City, OK ….. Wormy Dog Saloon
Jan 22 ….. Fayetteville, AR ….. George's Majestic Lounge
Jan 24 ….. Little Rock, AR ….. Revolution
Jan 25 ….. Tulsa, OK ….. Cain's Ballroom
Jan 26 ….. Tyler, TX ….. Electric Cowboy
Jan 27 ….. Robstown, TX ….. High Chapparal
Jan 28 ….. Austin, TX ….. La Zona Rosa
Jan 31 ….. College Station, TX ….. Hurricane Harry's
Feb 17 ….. Dallas, TX ….. State Fairgrounds – Automobile Buidling
Mar 03 ….. Indianapolis, IN ….. Stables
Mar 10 ….. Cotulla, TX ….. Cotulla Rodeo Grounds
Apr 14 ….. College Station, TX ….. Wolf Pen Creek Amphitheater
Apr 19 ….. Stephenville, TX ….. Melody Mountain Ranch
Apr 20 ….. Hitchcock, TX ….. Galveston County Fairgrounds
Apr 21 ….. Huntsville, TX ….. Jolly Fox
Apr 28 ….. La Porte, TX ….. Sylvan Beach Park
: : : : :
Randy Rogers Band official website
listen to Randy Rogers Band free samples / download from iTunes