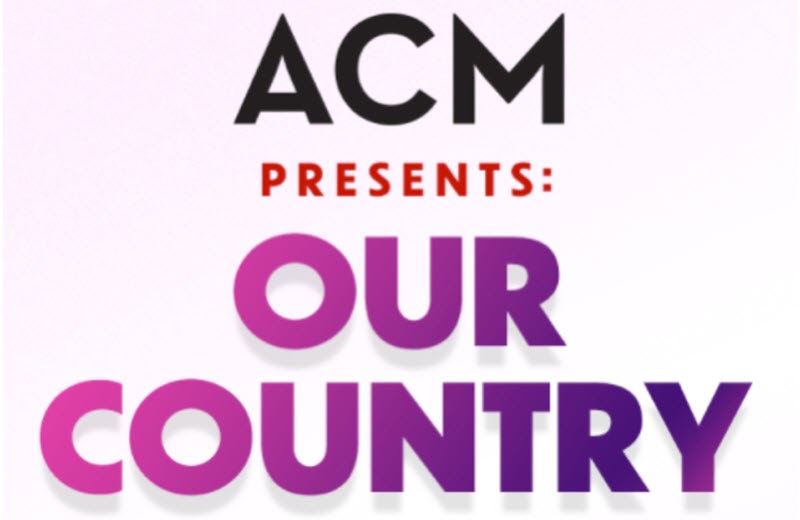 ACM® Presents: Our Country will be rebroadcast Saturday April 11 at 8pm ET/ 7 pm CT on CBS.  Check out the encore performance of this amazing show with performances by include Carrie Underwood, Keith Urban, Brad Paisley, Kelsea Ballerini, Dierks Bentley, Shania Twain, Kane Brown, Luke Bryan, Eric Church, Luke Combs, Lady Antebellum, Miranda Lambert, Little Big Town, Tim McGraw, Old Dominion,  Darius Rucker, Thomas Rhett, Blake Shelton, and more.
ACM Lifting Lives®, the philanthropic arm of the Academy of Country Music® announced today the ACM Lifting Lives® COVID-19 Response Fund allocated $1 million in less than a week following the ACM® Presents: Our Country special that aired Sunday, April 5 on CBS.
Nearly 8 million music fans around the country united for an evening of music and togetherness on Sunday, featuring at-home acoustic performances by Country Music's biggest stars, along with clips from past ACM Awards® moments and an introduction of the ACM Lifting Lives COVID-19 Response Fund.  
ACountry presents a selection of performances from the show
ACM PRESENTS: OUR COUNTRY PERFORMERS include:
Kelsea Ballerini – "homecoming queen?"
Dierks Bentley – "I Hold On"
Kane Brown & John Legend – "Last Time I Say Sorry"
Luke Bryan – "Most People Are Good"
Brandi Carlile – "The Joke"
Eric Church – "Never Break Heart"
Luke Combs – "Beautiful Crazy"
Sheryl Crow – "I Shall Believe"
Florida Georgia Line – "Blessings"
Lady Antebellum – "What I'm Leaving For"
Miranda Lambert – "Bluebird"
Little Big Town – "Next To You"
Tim McGraw – "Humble And Kind"
Old Dominion (Matthew Ramsey and Trevor Rosen) – "Some People Do"
Brad Paisley & Darius Rucker – "Mud On The Tires" & "Wagon Wheel"
Thomas Rhett – "Be A Light"
Blake Shelton & Gwen Stefani – "Nobody But You"
Shania Twain – "Honey, I'm Home" & "Man! I Feel Like a Woman"
Carrie Underwood – "Drinking Alone"
Keith Urban – "Wasted Time"
Kenny Rogers Tribute – featuring Brad Paisley & Darius Rucker performing "Lucille" & "The Gambler" and Luke Bryan performing "Coward Of The County"
#ACMOurCountry will be rebroadcast Saturday April 11 at 8 pm ET/ 7pm CT on CBS. Watch a selection of performances now on ACountry including @EricChurch @BradPaisley @KelseaBallerini @CarrieUnderwood and more
Click To Tweet
The ACM Lifting Lives COVID-19 Response Fund was created to assist individuals working in the Country Music industry who are suffering a financial crisis as a result of the pandemic. Since the announcement, $1 million was raised thanks to ACM Lifting Lives sponsors FirstNet, Built with AT&T and Amazon Music, and donors, including The Bobby Bones Show, City National Bank, and other individuals. The ACM Lifting Lives COVID-19 Response Fund began with an initial endowment of $250,000, matched $250,000 in outside support, and is now contributing another $250,000 due to the need of applicants. To date, more than $500,000 has been distributed to Country Music industry professionals who demonstrate immediate financial needs due to COVID-19 and meet the outlined criteria. For more information about the Fund including corporate partnerships, visit ACMLiftingLives.org.
"In less than 48 hours, ACM Lifting Lives was able to send financial support to hundreds of applicants with the ACM Lifting Lives COVID-19 Response Fund at an expedited pace," said Lyndsay Cruz, Executive Director of ACM Lifting Lives. "A huge thank you to our generous private corporate donors, partners, and many individual industry leaders for their contributions. Because of them, ACM Lifting Lives matched donations to aid those in the County Music community during these extraordinary times. We are hopeful to continue supporting future applicants with this fund and thank you to all for the support."
For more information on the ACM Awards and all ACM events, visit ACMcountry.com.
Source:  Academy of Country Music