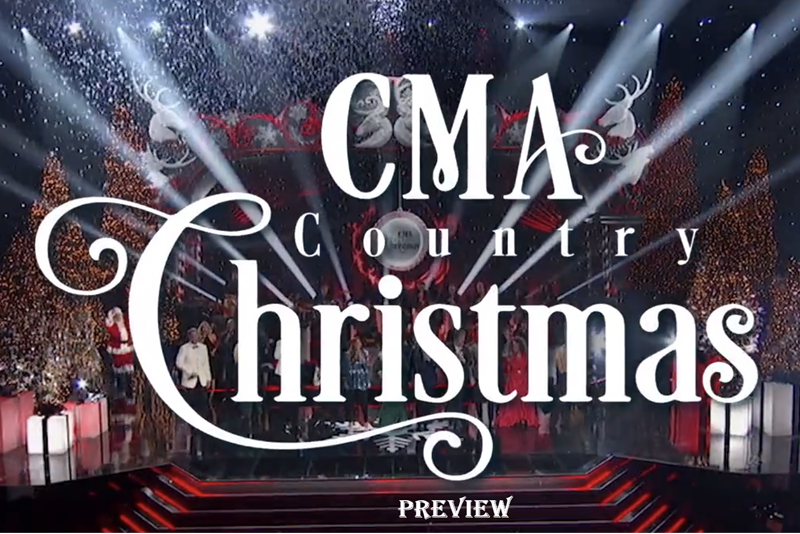 It's the most wonderful time of the year! CMA Country Christmas is TONIGHT, and we're just wishing that we got an invite to the best Christmas party of the year! So who can you expect to see on the screen tonight?
Trisha Yearwood hosts and performs during the festive special with additional performances by Dierks Bentley, Kristin Chenoweth, for KING & COUNTRY, Chris Janson, Tori Kelly, Lady Antebellum, Rascal Flatts, Runaway June, CeCe Winans, Brett Young and Chris Young coming together for a joyful night filled with Christmas classics and one-of-a-kind collaborations to celebrate the holidays.
News update:  Watch CMA Country Christmas on ACountry
Tori Kelly
This 26-year-old, cross-genre artist was first discovered on YouTube in her teens, and in 2010 became a semi-finalist on the 9th season of American Idol!
Lady Antebellum
The band formed in 2006 in Nashville, Tennessee, and consists of three main members— Hillary Scott, Charles Kelley, and Dave Haywood. Hillary and Dave are spouses, Hillary is the daughter of Linda Davis, and Charles Kelley is the brother of Josh Kelley. While they have many, MANY hits, my personal favorite will forever be Need You Now (2010)!
Rascal Flatts
Circa 1999, this year was the band's 20th year together and still has all three original members: Gary LeVox, Joe Don Rooney, and Jay DeMarcus. Narrowing down their biggest hit is near-impossible, considering they've never released a bad song over the entirety of their 2 decades as a musical group.
Chris Young
Chris grew up in Murfreesboro, Tennessee. His career took off in 2006 when he won Nashville Star, a singing competition similar to American Idol but was dedicated to finding country talent. Later that year, he released his first, self-titled album and it's been all uphill from there. His Christmas album is a must-play this time of year, and we can't wait to see him perform tonight!
Brett Young
Brett Young is relatively new to the country music scene, but he's definitely earning his spot on the charts. He grew up in California and was a baseball pitcher in college until he suffered a career-ending elbow injury. I guess it was a blessing in disguise, because that fateful game lead to him pursuing his career in music, and the rest is history!
Dierks Bentley
Fun fact: Dierks' first name is Frederick! Another fun fact: his first two albums are platinum certified and his third album is gold! Ever since the beginning of his career (all the way back in 2003), he's gained a massive following and deservedly so!
Trisha Yearwood
Garth Brooks' sweetheart is set to be on tonight's special. She's a woman of many talents, including singing, writing, and she's even a celebrity chef! Luckily she was able to take some time out of her insanely busy schedule to bless our ears and bring us some holiday cheer!
Kristin Chenoweth
Broadway star? Actress? Country singer? All of the above! At the young age of 51, this Tony Award-winning woman has proven that she can do it all! She brings a unique sound to the table that's unmistakably hers, so we're definitely interested in hearing her take on some holiday classics this evening!
Chris Janson
He's probably hoping Santa will 'buy him a boat' (insert laughter here), but he's definitely bringing some 'good vibes' (insert more laughter here) to our ears! Still on the up-and-up, and progressing his music in a whole new way, Chris is a fun addition to country music and embodies many values that this genre is all about.
Runaway June
We stan a solid girl group! Mark my words, these girls will be superstars within the next few years, and landing specials like CMA Country Christmas is a HUGE step in getting there!
CeCe Winans
12 Grammy Awards and 12 million records sold are pretty good indicators of the talent this woman possesses. CeCe is an American Gospel singer, which makes her a pretty good pick for a musical event like this one!
For King & Country
Hailing all the way from Australia, Joel and Luke Smallbone are a Christian pop duo that have been around since 2007 making music and sharing it around the world. This is one of their biggest performances in the US so far, and we're rooting for 'em!
CMA Country Christmas on TV
December 3 at 9/8c
Rebroadcasts TBA
It's time for #CMACountryChristmas tonight with @trishayearwood @ladyantebellum @rascalflatts @ kchenoweth @chrisyoung @brettyoung @runawayjune @4kingandcountry @janson_chris - see the stars and songs on ACountry
Click To Tweet
CMA Christmas Performances
Trisha Yearwood – "Silver Bells," "Jingle Bell Rock" and "Winter Wonderland" medley
Lady Antebellum – "White Christmas"
Tori Kelly – "O Little Town of Bethlehem"
Chris Janson – "Run, Run Rudolph"
Rascal Flatts with CeCe Winans – "Go Tell It on The Mountain"
Kristin Chenoweth – "I'll Be Home for Christmas"
for KING & COUNTRY – "Little Drummer Boy"
Dierks Bentley – "Have Yourself a Merry Little Christmas"
Lady Antebellum – "On A Night Like This" and "Silent Night" medley
Chris Young – "The Christmas Song"
Runaway June – "Sleigh Ride"
Trisha Yearwood with Kristin Chenoweth, Tori Kelly, Hillary Scott and CeCe Winans – "Children Go Where I Send Thee"
Rascal Flatts – "Deck the Halls"
Kristin Chenoweth – "The Christmas Waltz"
Brett Young – "This Christmas"
Tori Kelly – "Do You Hear What I Hear"
Chris Young – "Holly Jolly Christmas"
CeCe Winans – "Hark the Herald Angels Sing"
Trisha Yearwood – "It Wasn't His Child"
Trisha Yearwood with Kristin Chenoweth, Tori Kelly, Lady Antebellum, Rascal Flatts, CeCe Winans and Brett Young – "Feliz Navidad"
CMA Country Christmas airs at 8pm Central, so don't forget to grab the family and tune in for a festive night in on ABC!