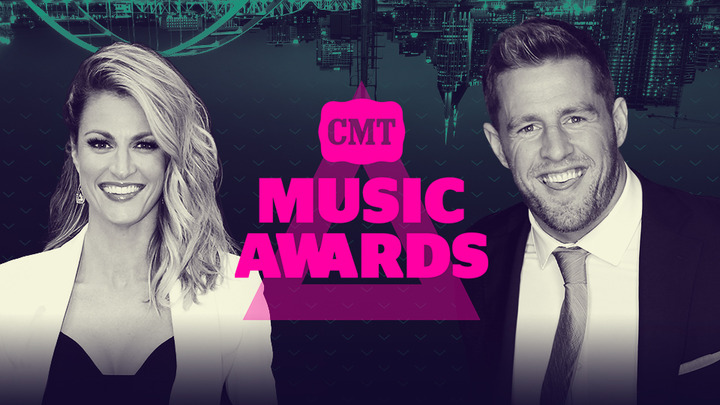 JJ Watt and Erin Andrews will host the 2016 CMT Music Awards, broadcast live from the Bridgestone Arena in Nashville on Wednesday, June 8, 2016 at 8:00 pm ET/PT.
Best known for his defense on the field with the Houston Texans and for her role as a FOX/Sports broadcaster and host of "Dancing with the Stars," Watt and Andrews are no strangers to intense competitions. This marks Watt's first time as host, while Andrews' returns for a second consecutive year.
"Having presented at the CMT Awards last year, I got a first-hand look at the energy and excitement of the event and I am very excited to be involved in a much larger capacity this year as co-host," said Watt. "There are two things that I know about the people of Nashville…they love country music and they know how to throw a party. When you put those two things together, it makes for one heck of a night. I can't wait to host the awards with Erin and be part of such a great night, honoring the biggest stars in country music."
"I'm thrilled to come back to Nashville to co-host the CMT Music Awards," said Andrews. "I had so much fun last year, and I can't wait to see what antics J.J. and I will get into together. Plus, there's nothing better than seeing my favorite country artists get recognized for their great work."
JJ Watt was drafted by the Houston Texans with the 11th overall pick in the 2011 NFL Draft. Watt has become the most dominant player in the NFL in his first five years, tying an NFL record with three NFL Defensive Player of the Year awards (2012, 2014 & 2015). Watt, who has the second-most career sacks in a player's first five seasons in NFL history, leads the NFL in sacks (74.5), tackles for loss (132) and quarterback hits (209) since entering the league. In addition to his dominance on the field, JJ Watt is one of the most beloved athletes off the field. He started the Justin J. Watt Foundation in 2010 while at the University of Wisconsin out of a desire to help underserved kids. His personal motto of "Dream Big, Work Hard" culminated into a mission that he uses to impact communities not only around Houston, but around the country. Watt has provided funding in excess of $2,000,000 to after-school athletic programs and organizations with insufficient funding through the Justin J. Watt Foundation. The foundation's mission is to provide after-school opportunities for middle-school aged children in the community to become involved in athletics, so that they may learn the character traits of accountability, teamwork, leadership, work ethic, and perseverance, while in a safe and supervised environment with their peers. In addition to Watt's on-the-field excellence and charitable endeavors, this summer he will have a role in the upcoming movie Bad Moms and will be launching his first ever collaboration with Reebok to feature his own product line.
A co-host for ABC's hit show, Dancing with the Stars, Andrews also currently reports as a features host and sideline correspondent for FOX NFL Sunday as a member of FOX Sports "A-Team." Additionally, Andrews lends her talents reporting for the MLB All Star Game as well as the World Series. Country music fans will enjoy her unique perspective coupled with her easygoing demeanor.
CMT revealedthe first round of performers last week that include show-stoppers like Blake Shelton, Chris Stapleton, Florida Georgia Line, Keith Urban, Luke Bryan, Jason Aldean and Thomas Rhett. Earlier this month, the network unveiled nominations for the 2016 "CMT Music Awards", which pitted the reigning champion, Carrie Underwood, against powerhouse newcomers, Cam and Chris Stapleton for most nominations and the highly coveted "Video of the Year" win. For the first time, The CMT Music Awards will find out, will country royalty Carrie Underwood be able to defend her throne?
Fan voting is available at CMT.com and continues until Monday, June 6 at 12:01 AM ET. On Wednesday, June 1, CMT will announce a brand-new surprise awards category. In the coming weeks, CMT will reveal this year's host, performers, presenters and more.