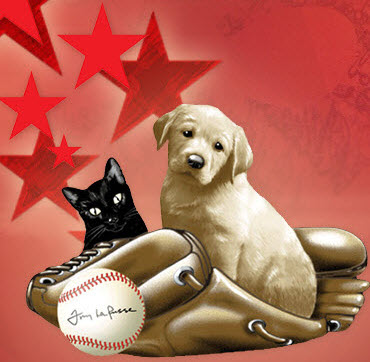 ACountry presents your chance to meet two of country music's newest stars, Easton Corbin and David Nail, and St. Louis Cardinals Manager Tony La Russa at ARF's Stars to the Rescue St. Louis gala on Saturday, January 15, 2011 at the Fox Theatre in St. Louis, Missouri. Benefiting ARF and more than 15 animal rescue organizations in the greater St. Louis area, Stars to the Rescue features Billy Bob Thornton and the Boxmasters, country music stars Easton Corbin and David Nail, Phantom of the Opera's Tim Martin Gleason, actor/comedian Kevin Pollak, and St. Louis Diva Kim Massie.
Easton Corbin was named Billboard's "Top New Country Artist of 2010" and his self-titled debut album awarded the Country Breakthrough Album of the Year by iTunes, Billboard named Easton's No. 1 hit "Roll With It" the No. 6 Hot Country Song of the Year, while his debut No. 1 single, "A Little More Country Than That," was ranked at No. 19. Corbin is the first country male artist in 17 years to have his first two consecutive singles reach No. 1.
David Nail lit up the charts with his hits "Red Light" and "Turning Home" . A huge Cardinals fan, Nail fulfilled another dream by suiting up for spring training after meeting Tony La Russa during his performance at ARF's Stars to the Rescue XIX in Walnut Creek, California in 2010.
Dont' miss your chance to win Stars to the Rescue Tickets and Meet and Greet Passes. To enter, complete the form below, including comments about your favorite pet. Winners will be notified via email. Good luck!
Tickets priced at $60 and $40 are on sale now. Buy Stars to the Rescue tickets online or by calling (314) 534-1111.
ARF saves the lives of loving dogs and cats who have run out of time at public shelters, giving another chance at life to animals who otherwise would perish. ARF provides the care and attention they need, including spay or neuter surgery, until a new home of their own can be found. ARF's People Connect programs strengthen the human animal bond for the elderly, residents of assisted living
centers, high school students, grade school students, and young children through programs that are national models of excellence. ARF programs allow people to experience the unconditional love and acceptance of dogs and cats. People rescuing animals…Animals rescuing people…®
If you are unable to attend Stars To The Rescue, you can make a difference in the lives of both animals and people by donating online to ARF.