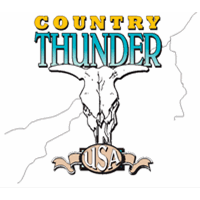 Country Thunder USA returns for its 16th year to the Shadow Hill Ranch, July 16-19. Jessica Simpson joins the 2008 Lineup which includes Sugarland, Keith Anderson, Carrie Underwood, Dierks Bentley, Sara Evans, Miranda Lambert, Taylor Swift, Clay Walker, Kellie Pickler, Randy Owen, Joe Nichols and more.
With over 40 bands scheduled to appear, Country Thunder USA- Wisconsin will once again feature fun-filled days of entertainment from the hottest superstars in country music, fun on-site activities for adults and children alike, great food & exquisite arts and crafts. For specific dates and performers visit, www.countrythunder.com
Tickets are available for purchase now with a wide variety of ticket packages (VIP, reserved seating, reserved lawn seats, general admission) and camping passes to fit all needs.
Visit www.countrythunder.com or call 262.279.6960 detailed information on all ticket packages.
Country Thunder lineup
Wednesday, July 16, 2008
10:00 PM – Carrie Underwood
8:30 PM – Taylor Swift
7:00 PM – Joe Nichols
5:45 PM – Lady Antebellum
4:30 PM – Laura Bryna
3:00 PM – Fisher Stevenson
Thursday, July 17, 2008
10:30 PM – Dierks Bentley
8:45 PM – Miranda Lambert
7:45 PM – Emerson Drive
6:30 PM – Harry Luge
5:00 PM – Keith Anderson
3:30 PM – Ashton Shepherd
2:00 PM – Heidi Newfield
12:30 PM – Halfway To Hazard
11:30 AM – Chasin' Mason
Friday, July 18, 2008
10:30 PM – Sugarland
8:30 PM – Clay Walker
7:00 PM – Randy Owen
5:30 PM- Jason Michael Carroll
4:00 PM – Heartland
2:30 PM – Rio Grand
1:30 PM – Shawn Hammonds
12:30 PM – Ryan Shupe & The Rubberband
Saturday, July 19, 2008
10:30 PM – Sara Evans
8:30 PM – Jessica Simpson
7:00 PM – Kellie Pickler
5:30 PM – Luke Bryan
4:00 PM – Danielle Peck
2:30 PM – Bluefield
1:30 PM – Veronica Ballestrini
12:30 PM – Billy Childers Band