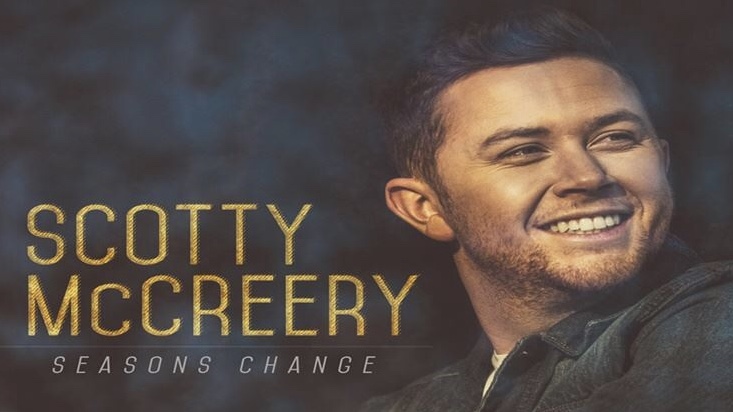 Scotty McCreery's new album, Seasons Change, featuring his first Number 1 hit "Five More Minutes," will be released March 16 , 2018.
"I feel like people will get to know the real me when they listen to Seasons Change," said McCreery. "I've had quite the life journey since my last album. I've grown up, learned who I am and what I want to say. This album is very personal and my favorite yet. I cannot wait for everyone to hear it."
To celebrate the release of his new album, McCreery will appear on Good Morning America Monday morning to talk about the return of the show that got him his start, American Idol. Then on Thursday, March 15 he will visit Megyn Kelly TODAY to sing his RIAA Gold-Certified single "Five More Minutes." Celebrating his album release, McCreery hosts an album launch party and concert at Gramercy Theatre in New York City on Monday, March 19 and strips it back for an intimate performance on the syndicated show, Pickler & Ben, on Wednesday March 21.
Fans can purchase Seasons Change onsite and have it signed in person by McCreery on March 18 in the Boston area at the FYE in Hanover Mall at 1775 Washington Street, Hanover, MA beginning at 1 PM ET, and on March 20 in his hometown of Garner, NC at the Walmart at 5141 NC Highway 42 W, beginning at 7:00 PM.
! #MCREERIANS !
A signed copy of Scotty's new album, #SeasonsChange is waiting for you!
@ us below and tell us what your favorite @ScottyMcCreery song is for your chance to win! Hurry, March 16th will be here soon! pic.twitter.com/7PpD776VYm

— ACountry ? (@acountry) March 6, 2018
Seasons Change features 11 tracks, all of which McCreery had a hand in co-writing, marking a first for the 24-year-old country singer. Each track on the album allows fans a glimpse into the different corners of McCreery's life—with songs like "In Between" featuring McCreery's favorite line about himself – "I ain't all Holy Water and I ain't all Jim Beam, I'm somewhere in between," "Boys From Back Home" about McCreery's real-life friends from North Carolina and his upcoming new single "This Is It," a song McCreery penned two weeks prior to proposing to his fiancé as an almost-blueprint to how he envisioned the proposal unfolding. Seasons Change is a true reflection of where the North Carolina native is in life.
Seasons Change Track Listing:
1. "Seasons Change" (Scotty McCreery/James McNair/Tommy Cecil)
2. "Wherever You Are" (Scotty McCreery/Frank Rogers/Dan Isbell)
3. "Boys From Back Home" (Scotty McCreery/Dan Isbell/Jason Gantt)
4. "Five More Minutes" (Scotty McCreery/Frank Rogers/Monty Criswell)
5.  "In Between" (Scotty McCreery/Frank Rogers/Jessi Alexander/Jonathan Singleton)
6.  "This Is It" (Scotty McCreery/Frank Rogers/Aaron Eshuis)
7.  "Wrong Again" (Scotty McCreery/Frank Rogers/Phillip White)
8.  "Move It On Out" (Scotty McCreery/Dan Isbell/Aaron Eshuis)
9.  "Barefootin'" (Scotty McCreery/Frank Rogers/David Lee Murphy
10. "Still" (Scotty McCreery/Aaron Eshuis)
11. "Home In My Mind" (Scotty McCreery/James McNair/Tommy Cecil)
Scotty McCreery made history in 2011 as both the first country artist and the youngest male artist of any genre to debut his first studio album, the Platinum-certified Clear as Day, at No. 1 on the all-genre Billboard Top 200 Albums chart. All three of his albums have debuted at No. 1 on a Billboard Albums chart, with current combined sales nearing 3 million copies. He's earned two Gold singles and three Platinum singles and achieved two Top Ten hits with "Feelin' It" and "See You Tonight." He won the 10th season of "American Idol" in 2011; was named the ACM New Artist of the Year in 2011; won the CMT Music Award for Breakthrough Video of the Year ("The Trouble with Girls") in 2012; and American Country Awards for new Artist of the Year in 2011 and Breakthrough Artist of the Year in 2013. In 2016, McCreery released his first book, Go Big or Go Home: The Journey Toward the Dream, and won the Rare Country Grand Ole Opry Moment of the Year Award for his live performance of "Five More Minutes" which became his first No. 1 single and an internet favorite viewed by millions on YouTube. His new album, Seasons Change, will be released on March 16, 2018.
For more information, visit www.ScottyMcCreery.com.