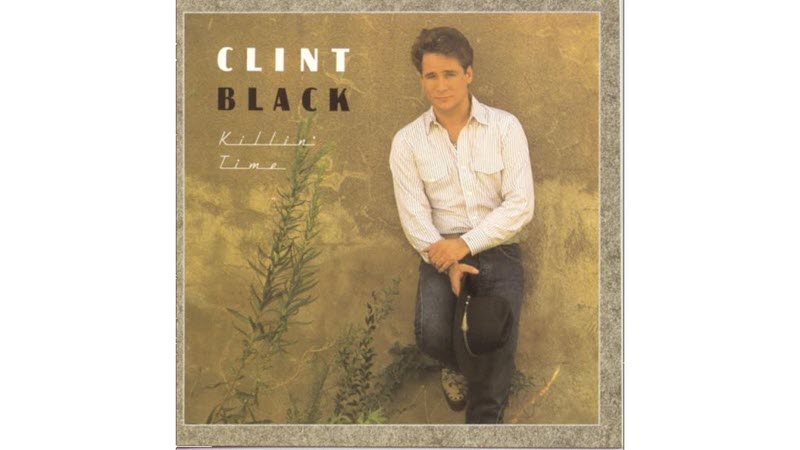 What's up, y'all, and happy September! This intern is back and better than ever and ready for a music switch up. When I was looking through this week's discography, I realized that this artist has been relevant in country music for decades –  along the same lines of Willie Nelson.
Clint Black's "Killin' Time" (released in 1989 on RCA Nashville) was this week's assignment and as a novice in country music, I was unfamiliar with his music. Eager as ever to discover artists, I rolled my windows down, turned the stereo up, and enjoyed country music the only way you can:  outside on country roads.
The first three songs were so upbeat and twangy, I couldn't help but dance around in my seat or tap the steering wheel along with the tune. I really enjoyed the second song "A Better Man," because this song is when this album begins to take shape. A heartbreak (shocker) and how he is going to get over the memories of the woman he lost. The lyrics that stood out to me the most were, "still I'm leaving here a better man / for knowing you this way." That was a nice sentiment that I think was evident throughout this whole album.
"You're Going To Leave Me Again" honest to goodness made me tear up. What a heartbreaking concept. Loving someone when it hasn't worked previously and pretending that this time will be the time that it works. I was mystified by the lyrics in this song, particularly towards the end. "So I won't even try / to tell myself you're not going to leave / and you will never say goodbye," which made my chest hurt because the uncertainty of love is paralyzing and this song was no different.
One thing I can say is that Black manages to bridge the tone of the different songs together, making it easier to keep up with the rhythm and direction. I really enjoyed the bounciness of "I'll Be Gone," though the message was really illustrating that Black was stuck in his ways unable to make the change necessary for the relationship to work.
"Killin' Time" was by far the most memorable song from this album. Also the most relatable because since I have been stuck in the house, all I have felt like I have done is kill time. "I don't know nothing about tomorrow / I've been lost in yesterday" is the best example of how that song is relevant today's times because I mean, we are all thinking of concerts and parties past, right? I know I am. 
Overall this was an interesting album, and truly a testament to how country music has evolved through the decades. Are y'all fans of Clint Black? Do you feel like you're "killin' time" during these days? I'm looking forward to what project is next, so let us know in the comments other artists I should check out.
As always you can find us on Facebook and on Twitter and always feel free to respond to some of our open-ended questions for a chance to win some cool swag!
Listen to Clint Black : Killin' Time
ACountry interns shares her first listens to some of our classic favorites. Check out her take on @Clint_Black 'Killin' Time' #tbt #listen #nowplaying #clintblack #killintime #countrymusic
Click To Tweet