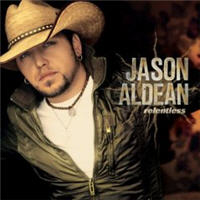 Congrats to strong>Jason Aldean as Relentless debuts at Number One on the Billboard Top Country Albums chart and number four on the Billboard 200. The album sold 98,000 units in its first week of release. Jason's 2005 self-titled debut peaked at number six on the Top Country Albums chart and is currently number 18.
The album's first single, Johnny Cash, is currently number 12 on the Hot Country Songs chart, following the success of three hit singles off the debut album – Why (number 1), Amarillo Sky (number 4), and Hicktown (number 10).
Don't miss your chance to win a Jason Aldean autographed prize package. Jason Aldean : Relentless track listing
1. Johnny Cash
2. Laughed Until We Cried
3. Do You Wish It Was Me
4. I Use What I Got
5. Who`s Kissing You Tonight
6. Relentless
7. My Memory Ain`t What It Used To Be
8. No
9. Back In This Cigarette
10. Grown Woman
11. I Break Everything I Touch
12. Not Every Man Lives
Relentless is in stores now.
source: Billboard
: : : : :
Buy Jason Aldean CD's from ACountry Music Store